I think while the Dhimmicrats and RINOs attempt to burn Judge Alito on the altar of abortion, I will ignore it today and post on the lighter side.
Which Winnie The Pooh character are you?

I took another quiz, and this result has me puzzled: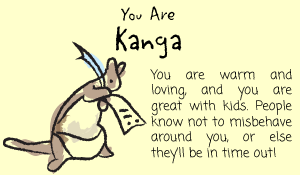 Take the 100 Acre Personality Quiz!
Who is kanga?
Oh, I get it, she is Kanga, and her child is Roo. I guess me forgetting all bout Pooh HAS been a blessing after all...