**update** Another minor quake, this one Magnitude 2.4 has happened this morning. Some people are reporting they felt two separate events. I have added information about the new quake at the end of this article.

**update #2** The USGS has adjusted the magnitudes of the recent quakes as follows:

The strength of the second quake (previously 2.2 Magnitude) has been more than doubled to match the first quake. Both are now rated at 2.5 Magnitude.

Today's quake, previously rated 2.4, has been lowered to 2.3 Magnitude.


**update #3** They've also changed the epicenters to the quakes. They are all reported to have taken place beneath Panther Knob now.



Yesterday, June 6, 2013, two small quakes occurred beneath Panther Knob. The first one (orange circle in the above graphic) happened at 5:58:14 am and was heard or felt by people in Macon and Jackson Counties, waking a few up. It registered Magnitude 2.5 at occurred at a depth of 4.4 miles.


The second one (red star in the above graphic) happened at 2:21:19 pm and was felt or heard by a number of people also. It registered Magnitude 2.2 and occurred at th a depth of 3.17 miles. It released less than half the energy of the first minor quake.

Minor earthquakes above Magnitude 2.0 like these happen about ten times a year within a hundred mile radius of where these occurred, most of them in Tennessee, where there is more geological activity. Lesser tremors below 2.0 occur more frequently.

USGS Event Pages are available for both quakes and I have linked to them below for your convenience.


5.58 am Quake Event Page | USGS Community Intensity Map
2.21 pm Quake
Event Page | USGS Community Intensity Map




A map from the North Carolina Geological Survey showing epicenters of earthquakes between 1698 and 1997 is available at http://www.geology.enr.state.nc.us/haz/quake.htm
---
---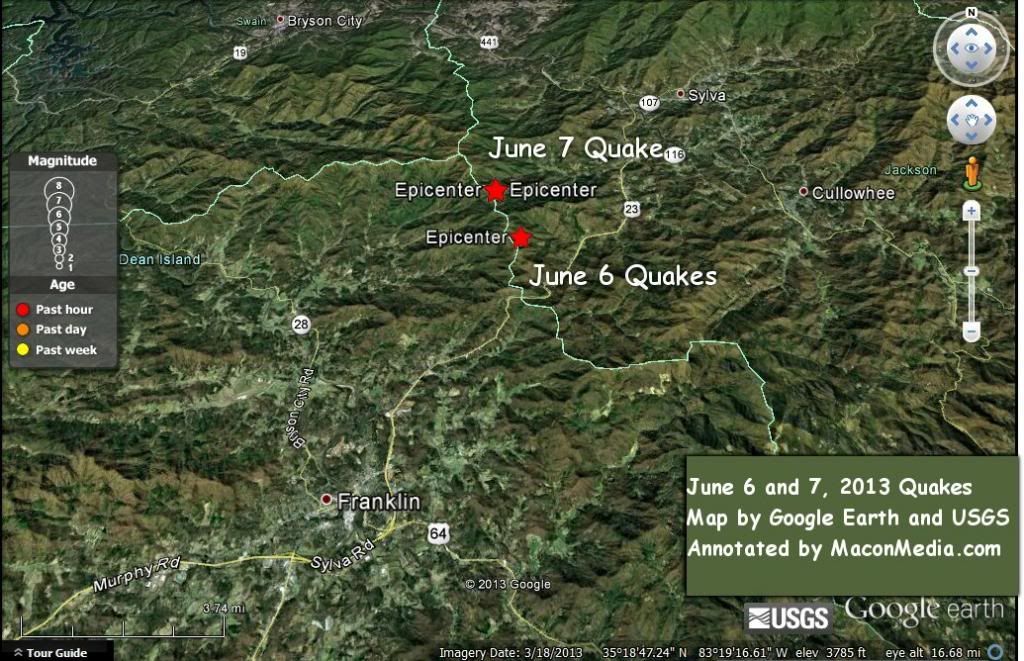 June 7th Earthquake Information:
Another minor quake has been reported. It was a Magnitude 2.4 and happened at 6:28:50 at a depth of 3 miles below the Comer Knob area (just a little north of the two previous tremors. Here is a map of where the quakes are in relation to one another:
More information on this morning's tremor is below:
June 7, 2013 6:28:50 am Quake