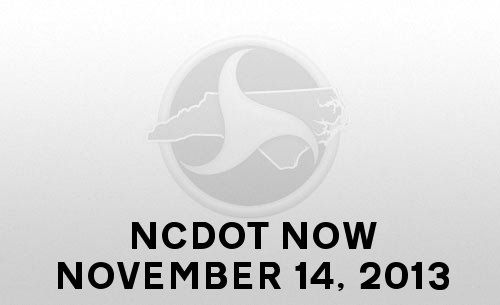 This week on "NCDOT Now":

•The leaves haven't even finished changing color yet, and we've already seen snow flurries in parts of the state. See how our crews prepared for this first brush with winter weather.

•This time last year, NCDOT lost one of its own in a tragic accident on N.C. 12 in Dare County. We'll show you how Brad Stevenson's co-workers, family and friends created a lasting memorial in his honor at the maintenance yard where he worked.

•NCDOT dedicated the new I-85 bridge over the Yadkin River last week to veterans who have served our country in the past and those who continue to serve today. Hear why Secretary Tata said the bridge is a proper symbol to honor their sacrifice.

•Riding the train in North Carolina just got even easier. Find out how our new website makes buying your tickets quicker and more convenient.


"NCDOT Now" is posted every week. A video podcast version is available via iTunes. People with digital media players, such as iPods or iPads, as well as smartphones, can download "NCDOT Now" directly to their devices and play them back anytime, anywhere and get automatic updates of new programs. Subscribe for free by clicking here.

"NCDOT Now" is also available on the department's YouTube page. Current and past editions of the broadcast are easily accessible by clicking on "Playlists" and selecting "NCDOT Now."

An RSS feed of the program is also offered for those who want to subscribe and receive automatic updates via email each time a new edition is posted.