1:32 am: Here is the video of the full meeting.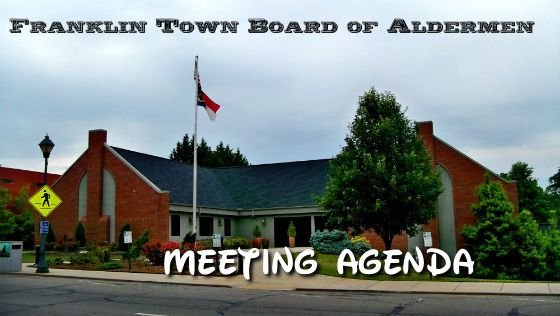 The Franklin Town Board of Aldermen will be meeting tonight at 7pm for their regular April 2015 meeting. It is likely that there will be an additional meeting this month to address the budget for the 2015 - 2016 fiscal year. After tonight's meeting, the video and additional supporting documents will be posted at the top of this article.

Here is the public agenda, followed by the 98 page agenda packet that is shared with members of the media. Currently, neither the town nor the other local media outlets share this information with the general public.


Town of Franklin Board of Aldermen
Agenda
Monday April 6, 2015 7:00 p.m.

1. Call to Order - Mayor Bob Scott
2. Pledge of Allegiance - Vice Mayor Verlin Curtis
3. Adoption of April 6, 2015 Proposed Agenda
4. Approval of the March 2, 2015 Board Minutes

5. Public Hearing 7:05 p.m. for Re-zoning Petition for Three (3) Parcels on Siler Rd.

6. Public Session

7. New Business
A.) Board Action on Re-Zoning Petition on Three (3) Parcels on Siler RD.
B.) Proclamation for Public Health Month - Mayor Bob Scott
C.) Proclamation for Neuropathy Awareness Week - Vice Mayor Verlin Curtis
D.) Proclamation for Appalachian Trail Celebration Period 2015 - Mayor Bob Scott
E.) Proclamation for Appalachian Trail Community Partnership Renewal - Bill Van Horn
F.) Presentation from Duke Energy Regarding Hydrilla - Duke District Manager Lisa Leatherman
G.) Discussion on Banners - Larry Hollifield
H.) Set Public Hearing for Special Use Permit Application - Land Use Administrator Justin Setser
I.) Forward Re-Zoning Petition for Watauga St and Dan ST to Planning Board - Land Use Administrator Justin Setser
J.) Re-Appointment of Peter Mosco to the Planning Board and Board of Adjustment - Land Use Administrator Justin Setser
K.) Tax Releases - Tax Collector Jessie Wilkins
L.) Town of Franklin Audit Contract with Martin-Starnes - Town Manager Summer Woodard
M.) Budget Amendment - Town Manager Summer Woodard
N.) Agreement for Engineering Services for Water Plant Upgrade and Expansion - Town Manager Summer Woodard
O.) Franklin Main Street Program - Town Manager Summer Woodard
P.) Water Line Easement for Industrial Park RD - Town Manager Summer Woodard
Q.) Application for Wireless Telecommunication Eligible Facilities Request 90 Cunningham Rd - Land Use Administrator Justin Setser

8. Legal
A.) North Carolina Department of Transportation Deed for Highway Right or Way - Town Manager Summer Woodard

9. Adjourn