**UPDATE 2:40 am 05-13-2015** Here is the video of the full meeting.


MEDIA ROLL CALL (media outlets present at the meeting)

Macon Media (me)
Macon county News and Shopping Guide
The Franklin Press
WFSC-AM/WNCC-FM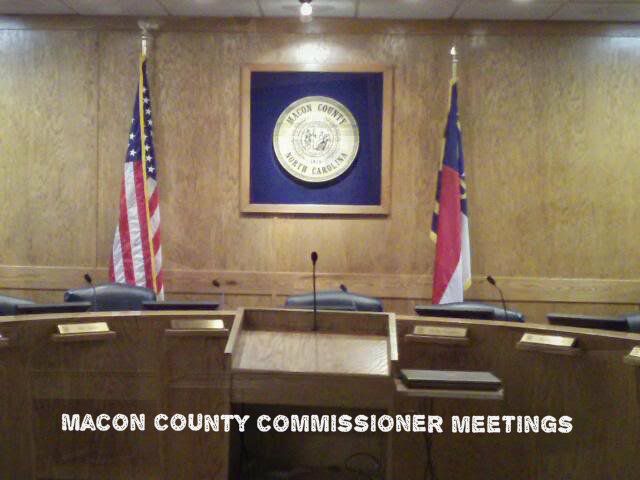 The Macon County Commissioners will be meeting tonight at 6 pm. The public agenda and the agenda that is shared with the local media outlets is below it. The video of the meeting will be added to the top of this post when it is edited and processed.
MACON COUNTY BOARD OF COMMISSIONERS
Call to order and welcome by Vice-Chairman Tate
Public Hearing(s) – 6 p.m. – Financing of improvements to Union Academy and Highlands School (QZAB)
Adjustments to and approval of the agenda
Work First Electing County Plan – Social Services Director Jane Kimsey

Transfer of Construction Authorization Permits – Macon Public Health Center Director Jim Bruckner

Update on Animal Control policies and procedures – Animal Control Director John Hook
Change Order to Penland contract for retaining wall extensions at adult and youth fields at Parker Meadows Recreational Complex – County Manager
Approval of Articles of Association and Agreement for the Southwestern Workforce Development Commission – Todd Douglas, Workforce Development Director

Rescission of Lease Agreement and new Lease Agreement with The Hudson Library of Highlands – County Attorney

Rescission of Lease Agreement with Forex Currency Trade Advisors, LLC – County Attorney
Consent Agenda – Attachment #11
All items below are considered routine and will be enacted by one motion. No separate discussion will be held except on request of a member of the Board of Commissioners.
Minutes of the April 14th regular meeting

Budget Amendment #185-#187

Macon County Public Health Fee Schedule Changes

Monthly ad valorem tax collection report
Board of Adjustment (3 seats)

Board of Health (Engineer slot)

Community Funding Pool (3 seats)

Franklin/Nantahala Tourism Development Commission (2 seats)
Closed session (if necessary)
Recess until Monday, May 18, 2015 at 6 p.m. at the Macon County Heritage Center at the Historic Cowee School, 51 Cowee School Drive, Franklin, NC 28734 for the purpose of holding a joint meeting with the Town of Franklin Board of Aldermen and the Town of Highlands Board of Commissioners.