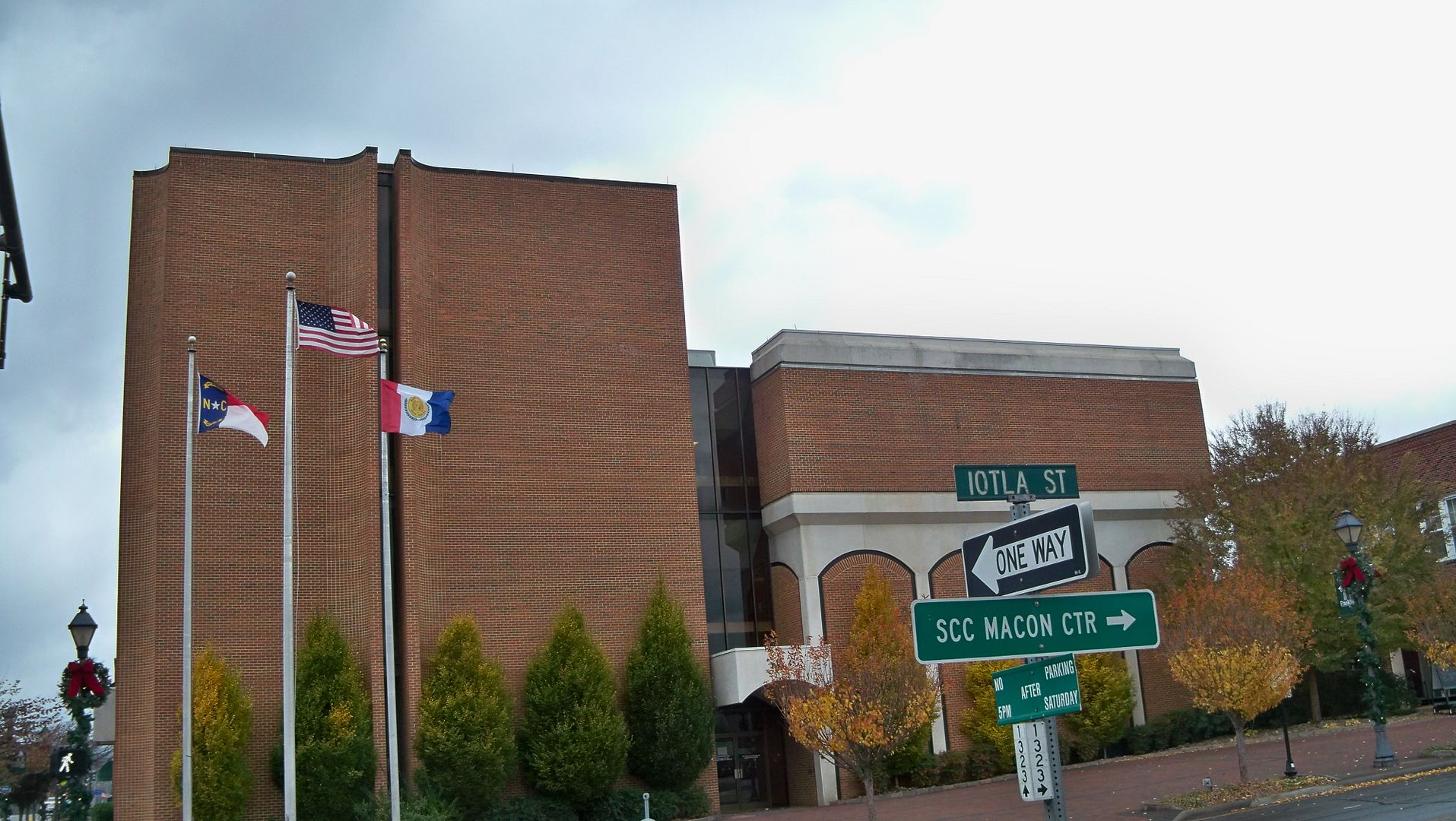 Superior Court for Macon County was called into session with the Honorable William H. Coward presiding.

Macon Media and The Franklin Press were the only local media organizations represented in this session of the court.

Here are a list of most of the court dispositions and decisions that took place on the morning of August 17th, augmented with brief notes taken while the court was in session. Any errors are mine and all defendants are presumed innocent until adjudicated by the court. Where possible, hyperlinks to material that may help promote understanding of the legal process in North Carolina.

Here are links to some documents to help you understand how the court system works and some of the legal jargon in the coverage:

A Citizen's Guide to Structured Sentencing

NC Superior Court Judges' Benchbook


The cases are listed in the order in which they appeared.

Anglin, Paula 14CRS050535 Dissemination to minors under the age of 16 years.
Represented by Hensley, Robert

The Defense entered a plea of guilty as part of a plea arrangement with the prosecution that exposed the defendant to a maximum of 59 months in the NC DOC (North Carolina Department of Corrections).

The judge sentenced the defendant to 15 to 27 months, suspended for a 24 month term of probation and a $500 fine and 12 hours of community service. The physical evidence in this case is to be destroyed and the defendant must register for 30 years as a sex offender.

Cowart, Jessie (numerous case numbers, primarily unindicted)
Represented by Gillette, Jeffrey

The State noted that the defendant was before the court regarding an April case and was currently unindicted in a recent case. After a discussion on the particulars, the judge set September 8th for a bond hearing and to handle other matters in the new case.

Waldroop, Gergory 14CRS050866 Driving While Impaired
Represented by Stewart, J.

This defendant was listed in error for this session and was scheduled for trial on 12-14-2015.

Moore, Thomas 15CRS050237 Traffick in Methamphetamine
Represented by Gillete, Jeffrey

Trail date of 12-14-2015.

Ortega, Janet Gonzales 14CRS051399, 14CRS051401 to 14CRS051403 (various fraud charges)
Represented by Hensley, Robert

The Prosecution noted that this defendant needed an interpreter and none were available today.
The case was continued to 11-16-2015 for a plea.

Prince, Christopher (not listed on the published court calendar)
Represented by Hensley, Robert

The case was continued to 11-16-2015.

Bush, Ryan Wesley 15CRS000115 Possess Drug Paraphernalia
No representation

The defendant filed for a court appointed attorney. Norwood was appointed.

After a brief recess, the court continued with numerous probation violation cases that required administrative action.

Stone, Mark Anthony 14CRS051722
Represented by Cassady, Rich

The defendant failed to appear when called. An order for arrest was issued by the court and a cash bond of $70,000 was set. (The defendant appeared later in the session and the order for arrest was canceled).

Rousselle, Jeffrey Todd 14CRS050525 Indecent Liberties with a Child
Represented by Beyer, Nikki

The Defense motioned for the defendant to be allowed to purchase a flip type phone so his employer could tell him where to go during his job. The conditions of his probation denies him the use of a cellphone capable of browsing the internet, sending photos or text messages as the crime he was convicted of was committed with this type of device. After a lengthy discussion on the particulars, the Defense withdrew the motion.

Ellenburg, Julius Phillip 13CRS051053 & 13CRS051054 Indecent Liberties with a Child
Represented by Cassady, Rich

A trial date of 12-14-2015 was set.

Cabe, Aaron Paul 14CRS051100, 14CRS 051101 and 15CRS 000205
(various drug and gun charges)
Represented by Cassady, Rich

The case was continued to 11-16-2015.

Browning, Erica Annette 14CRS000076 to 14 CRS000078 Embezzlement
Represented by Foster, Mark

This case was dismissed by the Prosection.

Garrison, Phylis Rena 14CRS000234, 14CRS000235, 14CRS050367, 14CRS050418, 14CRS050419 and 15CRS050003 (Charges include B&E, Larceny, possession of Stolen Goods and various drug charges that include Methamphetamine Possession)
The defendant waived the right to have an attorney.

The Defendant entered a Plea of Guilty and after some consultation with the Prosecution and defense over restitution, including a trip to the Judges Chambers, the case was continued to 11-16-2015 to determine the amount of restitution.

Starkweather, Mark 11CRS000699 Probation Violation (Original case was Indecent Liberties with a Child)
Represented by Cassady, Rich

The Defendant was sentenced to a 90 day CRV for a nonrevocable offense and will return to probation upon release.

Scott, Michael 15CRS050517 Burning Certain Buildings
Represented by Lepre, Stephanie

Continued to 11-16-2015.

Sutton, Joshua Lee 14CRS050521, 14CRS050522 and 15CRS000024 (charges include possession of various drugs, marijuana, Cocaine and Methamphetamine and gun charges)
Represented by Lepre, Stephanie

Trail date set for 12-14-2015.

The court recessed until 2:00 pm.