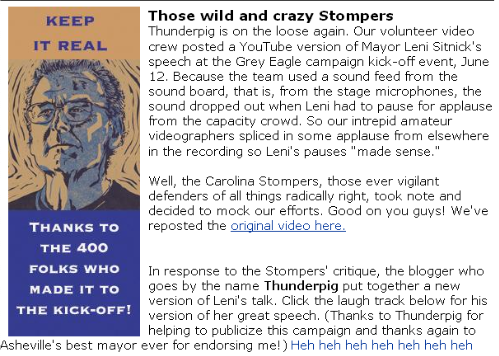 Snapshot from Bothwell Campaign Newsletter

Information on how you can

subscribe to Cecil Bothwell's newsletter

. I disagree with Bothwell on virtually every issue, and I think it is imperative that we keep up with what the opposition thinks, and what they are up to in their campaigns.



Read for yourself

how this all started.

I will give kudos to the Bothwell Campaign because they handled the criticism very well, and my fellow Republicans should learn from that, including my friend Chad Nesbitt and his sponsor, Tim Johnson, who

continues to foster the destruction of what is left of the Republican Party

in Buncombe County, and is working hard on spreading that disease to the 11th District, as well the rest of the state.

I wonder if he can tell me how many Buncombe Republicans actually won their races in the past two years?

Even though I consider Chad a friend, I will fight him every step of the way on this with every tool at my disposal. I do not want to see the circus that is the Buncombe County GOP spread past the borders of Buncombe County.