As of last night, with 69% of the vote in Texas, Governor Mitt Romney has secured enough delegates to clinch the nomination to be the candidate of the Republican Party in the 2012 general election.

His campaign released the following statement last night:


Today, Mitt Romney released the following statement on clinching the required number of delegates for the Republican nomination.

"I am honored that Americans across the country have given their support to my candidacy and I am humbled to have won enough delegates to become the Republican Party's 2012 presidential nominee. Our party has come together with the goal of putting the failures of the last three and a half years behind us. I have no illusions about the difficulties of the task before us. But whatever challenges lie ahead, we will settle for nothing less than getting America back on the path to full employment and prosperity. On November 6, I am confident that we will unite as a country and begin the hard work of fulfilling the American promise and restoring our country to greatness."



As the above map shows, Texas was a Romney landslide and Ron Paul could only manage 11.9% of the votes in his own home state...the worst home state performance of any Presidential candidate this election cycle. (Mitt Romney 72.2% in Massachusetts, Newt Gingrich 47.2% in Georgia and Rick Santorum 18.3% in Pennsylvania).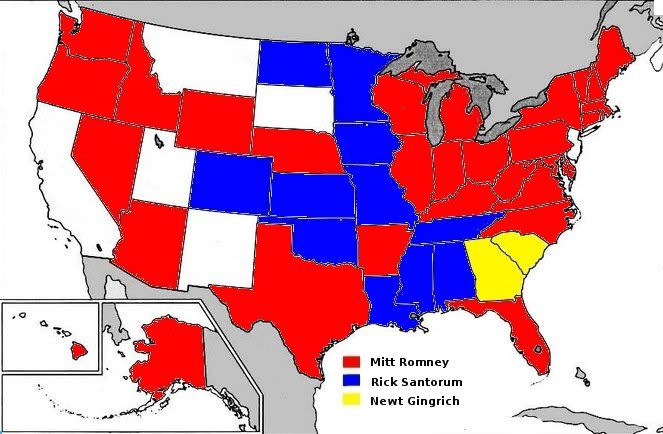 The delegate count, according to the AP, stands at:

1,183 Mitt Romney
261 Rick Santorum
135 Newt Gingrich
129 Ron Paul

Now, the focus of the Republican Party, save for a few delusional people, will turn to working toward the election of Mitt Romney as the 45th President of the United States of America and the RNC National Convention in Tampa Bay [website], Florida will be a showcase for the Romney Campaign [website].