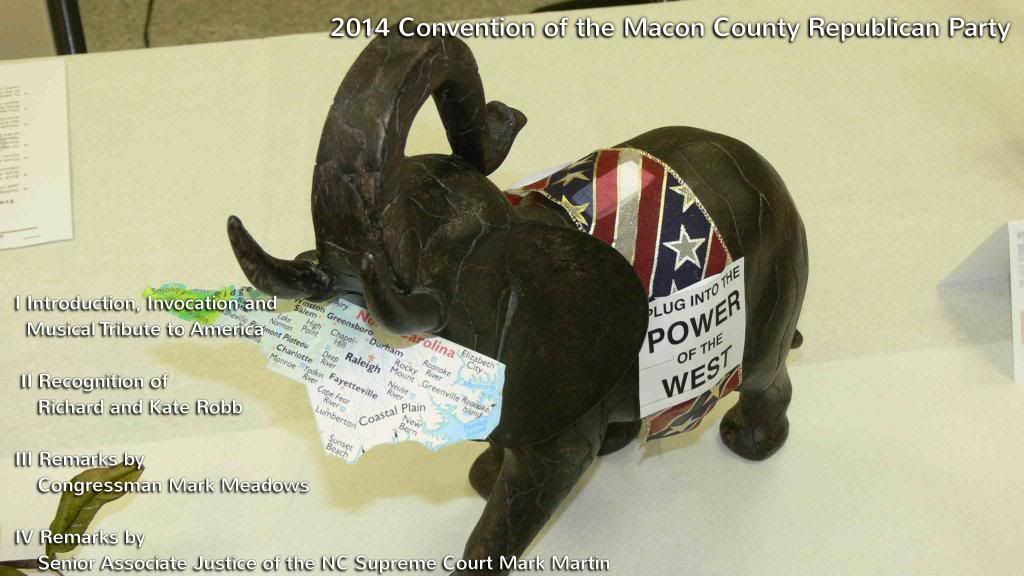 On Saturday, the Macon County Republican Party held it's annual convention (video excerpts are posted below) at the Community Facilities Building on the Georgia Road. Some 160 people attended the event, socializing and meeting with candidates for various local and state offices. The musical group Blue Ridge performed a couple of songs in tribute of America and Congressman Mark Meadows and the Seniro Associate Justice of the North Carolina Supreme Court spoke to the standing room only crowd. The party recognized Richard and Kate Robb for their contributions of a life of service to the country and to the party.

During the precinct meetings, a record 68 people signed up to become delegates to the district and state conventions (there are only 40 allotted slots).

Party Chairman Carla Miller reminded everyone of the candidate forum that will be held in the community facilities building on Saturday, March 29th at 2pm and the grand opening of the new Republican party headquarters at 555 Depot Street at noon on April 1st.

Other events on the calendar are:

GEM Country Republican Women's Club Luncheon
Tuesday, March 18th at 11:15AM
Speaker: NC Court of Appeals Judge Donna Stroud

District 11 GOP Convention
Saturday, April 26th
Lunch: 11:00AM
Convention: 1:00PM
Tuscola High School in Waynesville, NC

North Carolina State GOP Convention
June 6th and 7th
Harrah's Casino, Cherokee, NC

Here are video excerpts of the convention:

I Introduction, Invocation and Musical Tribute to America


II Recognition of Richard and Kate Robb
III Remarks by Congressman Mark Meadows


MEDIA ROLL CALL

Macon Media (me)
The Franklin Press (a reporter AND a photographer)
The other media outlets were absent from this event.

The Macon County Democratic Party will be holding their annual convention on Saturday, April 5th at 11am in the Macon County Courthouse. Macon Media plans on being their to cover this event also.

I have decided to start selling DVDs of events again in an effort to raise funds so I can replace aging and borrowed equipment that I use to record and process videos of the various meetings and events.

DVDs of this event are available.
Please send a check or money order for $10 to:

Robert Coggins, Jr
39 Phillips Street, Suite #2
Franklin, NC 28734

Please indicate "Macon GOP 2014" in the memo section of the check or money order and I will send you a DVD in the mail.