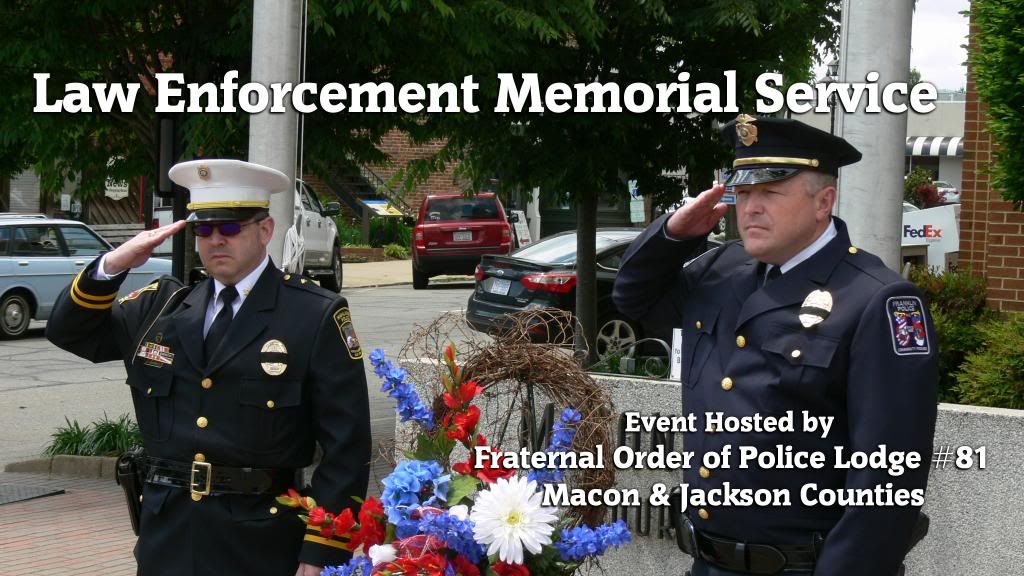 Law Enforcement Agencies from around Macon County gathered Friday to mark the observance of Law Enforcement Memorial Day.

The holiday was created on October 1, 1961, when Congress asked the president to designate May 15 to honor peace officers. John F. Kennedy signed the bill into law on October 1, 1962. The Proclamation Signed by President John F. Kennedy:

To pay tribute to the law enforcement officers who have made the ultimate sacrifice for our country and to voice our appreciation for all those who currently serve on the front lines of the battle against crime, the Congress, by a joint resolution approved October 1, 1962 (75 Stat.676), has authorized and requested the President to designate May 15 of each year as "Peace Officers Memorial Day," and the week in which it falls as "Police Week" and by Public Law 103-322 (36 U.S.C. 175) has requested that the flag be flown at half-staff on Peace Officers' Memorial Day.


At this year's ceremony, Derek Roland, the Macon County Manager, spoke. His full speech is included in the above video.

During the ceremony, a roll call of fallen officers was read, and a bell was tolled after each name. The roll call included date of end of service, name and the department the officer served with. The roll call of fallen officers included:



October 29, 2013
Senior Police officer Robert A. Bingaman
Asheville Police Department

FOP Lodge #81 also remembered the following officers from Western North Carolina who fell in previous years:

October 3, 2001
Master Trooper Calvin E. Taylor
North Carolina Highway Patrol

May 31, 2003
Senior Trooper Anthony G. Cogdill
North Carolina Highway Patrol

June 17, 2008
Trooper David Shawn Blanton, Jr.
North Carolina Highway Patrol

The ceremony occurs each year, weather permitting, on May 15th and the public is always welcome at this ceremony.

Here is a brief slide show of photos I took during the ceremony:






You may have to manually click through the photos.