**edit 12:13am** I forgot to add the voter turnout data. 5,005 of the 24,980 registered voters participated in this primary. That makes the voter turnout 20.04%. -Bobby

I only followed three races in Macon County tonight while in the Board of Elections office in the basement of the Macon County Courthouse tonight and here are the results expressed in three precinct maps, then the numbers by precinct:




Robbie Holland cruised to a very easy re-election, garnering over 85% of the vote.

Robbie Holland 2,844...85.74%
Bryan Carpenter 473...14.26%



Commissioner Jim Tate received over 60% of the vote and will face Michael Rogers in November.

Jim Tate 1,999...61.32%
John Shearl 1,261...38.68%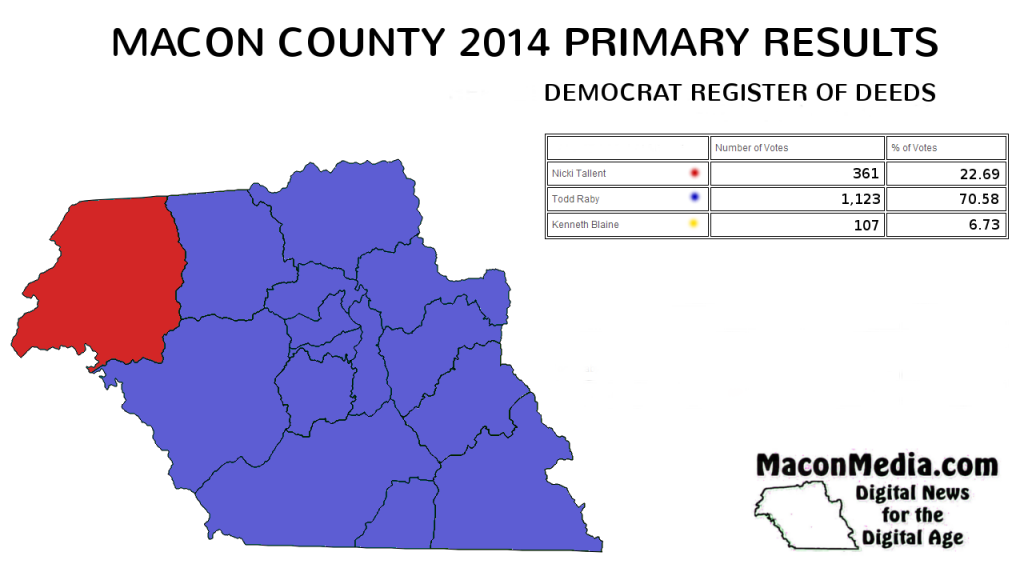 Register of Deeds Todd Raby received over 70% of the votes in the primary today and will face Jamie Cochran in November.
Nicki Tallent 361...22.69%
Kenneth Blaine 107.....6.73%


Here are the results by precinct in the order in which they came in:



8:03 pm ELLIJAY


REGISTER OF DEEDS

Nicki Tallent 25...30.12%
Todd Raby 56...67.47%
Kenneth Blaine 2...2.41%

SHERIFF

Robbie Holland 142...88.20%
Bryan Carpenter 19...11.80%

DISTRICT I COMMISSIONER

Jim Tate 100...64.10%
John Shearl 56...35.90%


8:30 pm NORTH FRANKLIN

REGISTER OF DEEDS

Nicki Tallent 15...17.24%
Todd Raby 66...75.86%
Kenneth Blaine 6...6.90%

SHERIFF

Robbie Holland 138...87.90%
Bryan Carpenter 19...12.10%

DISTRICT I COMMISSIONER

Jim Tate 97...63.40%
John Shearl 56...36.60%


8:34 pm UNION

REGISTER OF DEEDS

Nicki Tallent 20...25.64%
Todd Raby 52...66.67%
Kenneth Blaine 6...7.69%

SHERIFF

Robbie Holland 126...82.89%
Bryan Carpenter 26...17.11%

DISTRICT I COMMISSIONER

Jim Tate 86...58.11%
John Shearl 62...41.86%


8:40 pm SOUTH FRANKLIN

REGISTER OF DEEDS

Nicki Tallent 13...23.21%
Todd Raby 39...69.64%
Kenneth Blaine 4...7.14%

SHERIFF

Robbie Holland 38...70.37%
Bryan Carpenter 16...29.63%

DISTRICT I COMMISSIONER

Jim Tate 32...61.54%
John Shearl 20...38.46%


8:44 pm IOTLA

REGISTER OF DEEDS

Nicki Tallent 13...20.00%
Todd Raby 50...76.92%
Kenneth Blaine 2...3.08%

SHERIFF

Robbie Holland 83...90.22%
Bryan Carpenter 9...9.78%

DISTRICT I COMMISSIONER

Jim Tate 49...54.44%
John Shearl 41...45.56%



8:49 pm MILLSHOAL

REGISTER OF DEEDS

Nicki Tallent 14...22.22%
Todd Raby 45...71.43%
Kenneth Blaine 4...6.35%

SHERIFF

Robbie Holland 122....82.99%
Bryan Carpenter 25...17.01%

DISTRICT I COMMISSIONER

Jim Tate 88...61.54%
John Shearl 55...38.46%



8:54 pm EAST FRANKLIN

REGISTER OF DEEDS

Nicki Tallent 23...29.21%
Todd Raby 56...62.92%
Kenneth Blaine 7...7.87%

SHERIFF

Robbie Holland 115...83.33%
Bryan Carpenter 23...16.67%

DISTRICT I COMMISSIONER

Jim Tate 79...59.40%
John Shearl 54...40.60%


8:54 pm CARTOOGECHAYE

REGISTER OF DEEDS

Nicki Tallent 16...22.54%
Todd Raby 49...69.01%
Kenneth Blaine 6...8.45%

SHERIFF

Robbie Holland 145...77.96%
Bryan Carpenter 41...22.04%

DISTRICT I COMMISSIONER

Jim Tate 99...54.70%
John Shearl 82...45.30%


8:58 pm FLATS

REGISTER OF DEEDS

Nicki Tallent 4...23.53%
Todd Raby 12...70.59%
Kenneth Blaine 1...5.88%

SHERIFF

Robbie Holland 46...74.19%
Bryan Carpenter 16...25.81%

DISTRICT I COMMISSIONER

Jim Tate 37...59.68%
John Shearl 25...40.32%


9:03 pm HIGHLANDS

REGISTER OF DEEDS

Nicki Tallent 23...26.44%
Todd Raby 56...64.37%
Kenneth Blaine 8...9.20%

SHERIFF

Robbie Holland 226...91.87%
Bryan Carpenter 20.8.13%

DISTRICT I COMMISSIONER

Jim Tate 221...81.78%
John Shearl 47...18.22%


9:05 pm SUGARFORK

REGISTER OF DEEDS

Nicki Tallent 5...33.33%
Todd Raby 8...53.33%
Kenneth Blaine 2...13.33%

SHERIFF

Robbie Holland 64...94.12%
Bryan Carpenter 4...5.88%

DISTRICT I COMMISSIONER

Jim Tate 44...65.67%
John Shearl 23...34.33%



9:09 pm COWEE

REGISTER OF DEEDS

Nicki Tallent 7...7.14%
Todd Raby 84...85.71%
Kenneth Blaine 7...7.14%

SHERIFF

Robbie Holland 137...85.09%
Bryan Carpenter 24...14.91%

DISTRICT I COMMISSIONER

Jim Tate 95...60.90
John Shearl 61...39.10%


9:11 pm NANTAHALA

REGISTER OF DEEDS
Nicki Tallent 7...43.75%
Todd Raby 6...37.50%
Kenneth Blaine 3...18.75%

SHERIFF

Robbie Holland 45...76.27%
Bryan Carpenter 14...23.73%

DISTRICT I COMMISSIONER

Jim Tate 32...59.26%
John Shearl 22...40.74%


9:18 pm BURNINGTOWN

REGISTER OF DEEDS
Nicki Tallent 6...24.00%
Todd Raby 18...72.00%
Kenneth Blaine 1...4.00%

SHERIFF

Robbie Holland 68...73.91%
Bryan Carpenter 24...26.09%

DISTRICT I COMMISSIONER

Jim Tate 50...56.18%
John Shearl 39...43.82%


9:44 pm SMITHBRIDGE

REGISTER OF DEEDS
Nicki Tallent 27...30.00%
Todd Raby 53...58.89%
Kenneth Blaine 10...11.11%

SHERIFF

Robbie Holland 139...79.43%
Bryan Carpenter 36...20.57%

DISTRICT I COMMISSIONER

Jim Tate 82...47.67%
John Shearl 90...52.33%