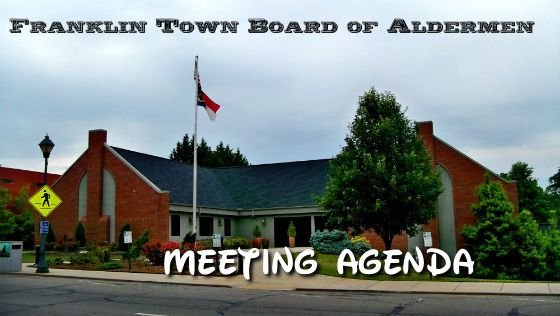 The Franklin Town Board of Aldermen will be meeting Monday night, March 7th, 2016 in the lower level of town hall. Macon Media will be there to record the meeting for those who cannot be there. the public agenda and and the agenda that is shared with the media is posted below the live video player.

Macon Media has switched video providers from Livestream to Ustream because Ustream allows embedding of live video events on websites at the free service level. No login is required, but you will have to sit through and ad served up by Ustream. Once the ad finishes playing, click skip ad in the upper right corner of the video player. Once a little more cash flow is generated, a service plan can be bought that will remove the ads.

Once the meeting is over and a video has been produced, the live video player will be replaced with the recorded video.


Town of Franklin Board of Aldermen
Regular Scheduled Meeting
Agenda Monday March 7, 2016 7:00 p.m.

1. Call to Order- Mayor Bob Scott

2. Pledge of Allegiance- Vice Mayor Patti Abel

3. Adoption of the March 7, 2016 Town Board Agenda

4. Approval of the January 30 and February 1, 2016 Town Board minutes

5. Public Hearing 7:05 p.m. for Re-Zoning Petition for Carolina Mountain Drive



6. Public Session

7. New Business

A.) Board Action on Re-Zoning Petition for Carolina Mountain Drive

B.) Consideration of Rate Increase Request for J&B Disposal- Bonita Hamstra

C.) Forward Text Amendment Regarding Neighborhood Mixed Use Zoning to Town Planning Board- Land Use Administrator Justin Setser

D.) Tax Release- Tax Collector Jessie Wilkins

E.) Martin Starnes Audit Contract for Fiscal Year 2016-2017- Finance Officer Kyra Doster

F.) Update on Fiscal Year 2016-2017 Town of Franklin Budget Schedule- Town Manager Summer Woodard

G.) Street Closing Requests for 2016- Town Manager Summer Woodard



8. Legal

A.) Parking Citation- Town Attorney John Henning Jr and Police Chief David Adams

B.) Ordinance for Handicapped Parking Penalty- Town Attorney John Henning Jr

C.) Utility Ordinance Amendments- Town Attorney John Henning Jr

D.) Resolution of Intent to Join the National Flood Insurance Program- Town Attorney John Henning Jr



9. Announcements

A.) Town Hall Offices will be closed Friday March 25, 2016 in observance of Good Friday



10. Adjourn







CROWD FUNDING OR SPONSORSHIP OPPORTUNITIES

If you receive value from what Macon Media provides to the community, please consider becoming a supporter and contribute at least a dollar a month.

If you have a business or event you are interested in sponsorship opportunities or underwriting coverage, send an email to
editor@MaconMedia.com for more information. Serious inquiries only.

Thank You to the people who have been sending in donations and those businesses who are underwriting coverage of news and events. You have kept
Macon Media online and are allowing new features to be added to coverage of local news, weather and events.

You can find out more information on how to do that and some of what I plan to accomplish if I reach certain levels of funding at >>
https://www.patreon.com/MaconMedia