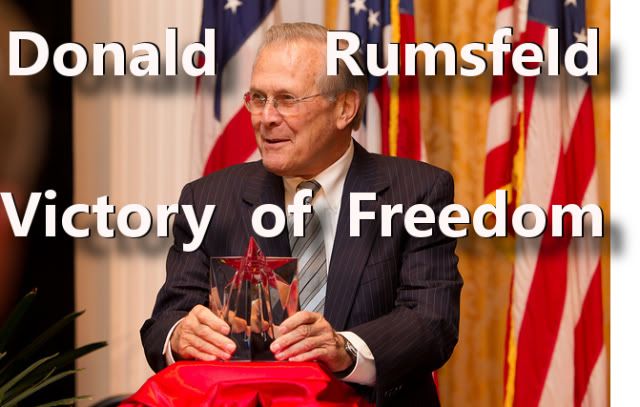 I don't know how I missed this! One of my heroes, former Secretary of Defense Donald Rumsfeld, received the Victory of Freedom Award from the Nixon Foundation in December. The video and slideshow below is of that event.

Created with Admarket's flickrSLiDR.
Board Chairman Ron Walker and members Larry Higby and Amb. George Argyros presented Sec. Donald Rumsfeld with the Foundation's Victory of Freedom Award Monday evening for his determination, dedication and devotion to the cause of freedom. The master of ceremonies was Sandy Quinn, newly elected President of the Foundation.
The 13th and 21st Defense Secretary has served over 50 years in public life, a brilliant career that began on Capitol Hill before the talented young Congressman was recognized by President Nixon to lead the Office of Economic Opportunity, and later went on to serve as the 37th President's Counselor and Ambassador to the North Atlantic Treaty Organization. In his remarks upon accepting the award, Sec. Rumsfeld noted RN's acumen for team building as one of the most enduring aspects of his legacy.
"Richard Nixon assembled truly impressive minds from Henry Kissinger to Pat Moynihan to Bryce Harlow to George Shultz, Alan Greenspan, and Dick Cheney," said Sec. Rumsfeld. "As diverse as they were what they seemed to share was a rare trait: they could distinguish between the seemingly urgent and truly important."
Of the Nixon Administration's most urgent and important challenges was re-establishing the morale of the U.S. Military in the midst of the Vietnam War. Upon entering the Oval Office, RN immediately started laying the groundwork for an all-volunteer military force ultimately instilling a more dedicated and disciplined culture within its ranks.
"The difference was dramatic…In 1975, I was the first secretary of defense to arrive in office with the all-volunteer military fully in place," said Sec. Rumsfeld. "That our military is capable, dedicated, and overwhelmingly supported by our citizens today is a lasting tribute to Richard Nixon."
Source: The Richard Nixon Foundation