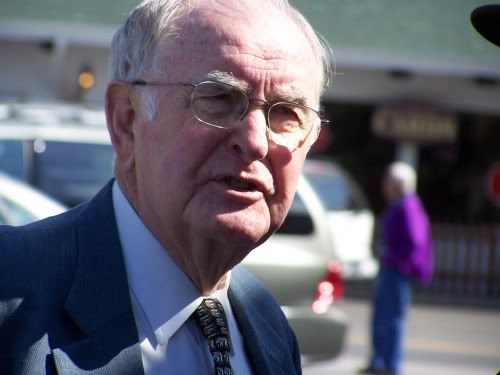 Bob Carpenter, a giant in Macon County politics has passed away this weekend.
Senator Robert C. Carpenter, 87, of Franklin, passed away Saturday, August 6, 2011.
Bob was born and raised in Macon County. The Carpenter family has been in Macon County since the 18 th Century. He was the son of the late Edgar Jackson Carpenter and Eula Dean Carpenter. In addition to his parents, he was preceded in death by his first wife of 39 years, Ruth Cope Carpenter who died in 1985; three daughters, Elizabeth Poppe, Jane Gullett and Deborah Marshall; three brothers, Jack, Dean and Edgar and stepson, Clyde Bryant, Jr. Bob was a graduate of Franklin High School and the University of VA, School of Banking. Bob was a U.S. Navy veteran of WWII. He was a bank executive with Bank of Franklin, Bank of Asheville and was Vice President for First Union, managing five branches in the local area. After retirement Bob entered his political career becoming Senator in the North Carolina General Assembly serving eight terms. He was a member of St. Francis Catholic Church, K.O.C., American Legion, S.A.R.S., Rotary Club of Franklin as well as many other civic, political and youth organizations.
He is survived by his wife of 25 years, T. Helen Edwards Bryant Carpenter; five children, Robert D. Carpenter of Sylva, Dale R. Carpenter of Hurricane, WV, Thomas Carpenter of Conyers, GA, Edgar G. Carpenter of Charlotte, NC and Christine M. Carpenter of Waynesville, NC; brother, Kenneth Carpenter of Warner Robbins, GA; sister, Louise Darnell of Franklin; three step daughters, Deborah Bryant of Franklin, Susan Zolo of Fairfield, Iowa and Rebecca Prince of Franklin;34 grandchildren and great-grandchildren and several nieces and nephews.
Funeral Mass will be held at 11 a.m. Wednesday, August 10, at St. Francis Catholic Church. Father Alex and Father Cahill will officiate. Burial will be in the Woodlawn Cemetery with military graveside rites by VFW Post 7339 and the American Legion Post 108.
The family will receive friends from 6-8 p.m. Tuesday, August 9, at Macon Funeral Home.
Pallbearers will be Bo Carpenter, Eric Carpenter, Cory Carpenter, , Jack Carpenter, Ted Carpenter, Sean Carpenter, Jeff Darnell and Jeremiah Prince
In lieu of flowers, memorial donations can be made to the American Cancer Society.
Macon Funeral Home is in charge of the arrangements.
Online condolences can be made at maconfuneralhome.com
Video of him speaking at the 2010 Macon County GOP Convention at the request of Ed Krause.