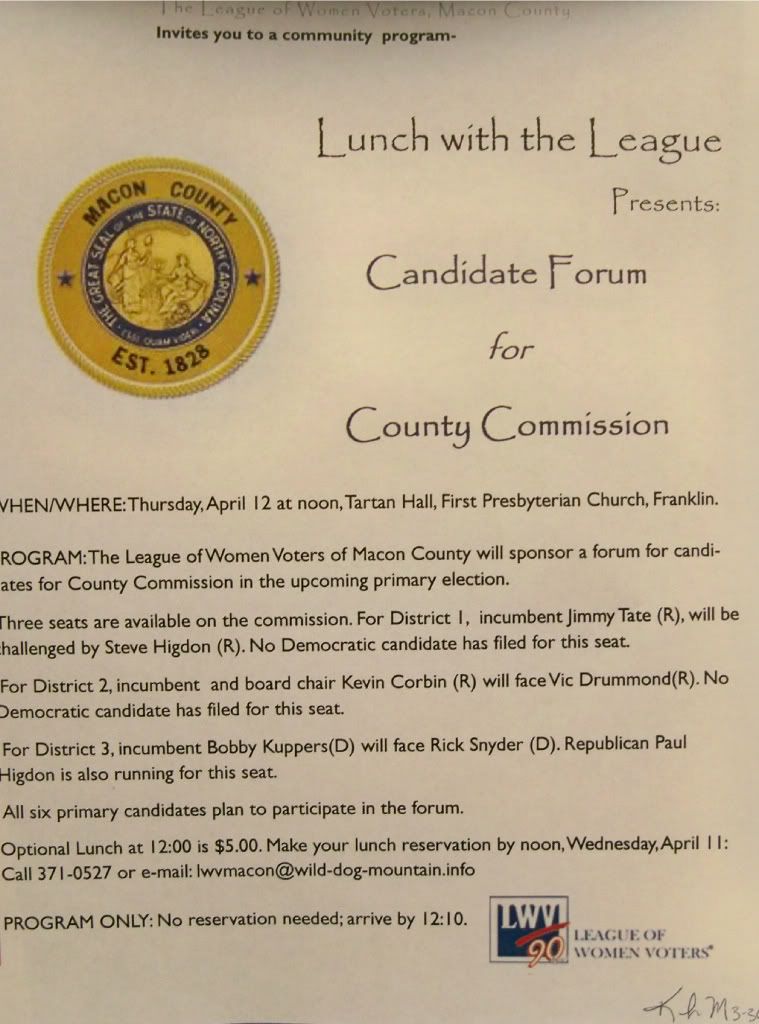 The Macon County Chapter of the League of Women Voters [website] will be hosting a forum for the candidates running for the Macon County Board of Commissioners on Thursday, April 12th in Tartan Hall at the First Presbyterian Church of Franklin located on Church Street behind the Macon County Courthouse [directions].
If you plan to attend the lunch (which costs $5.00), please make your reservation by noon the previous day by calling 371-0527 or via e-mail at lwvmacon@wild-dog-mountain.info
If you are interested in the candidate forum only, no reservation is needed, just show up by 12:10pm.
I plan on covering this event and may record video to share later.
Anticipated Candidate Participation:
District 1

(this seat will be be up for election again in 2014)
Republicans
Jimmy Tate, Incumbent, unexpired term. Appointed to replace Brian McClellan
Steve Higdon
Democrats
No Democrats have filed to run for this seat.
District 2
Republicans
Kevin Corbin, Incumbent, currently serving as Chair of the Board.
Vic Drummond
Democrats
No Democrats have filed to run for this seat.
Unaffiliated
In addition, Charlie Leatherman, former county commissioner and board chairman, is gathering signatures for a run as an
unaffiliated
candidate for the District 2 seat. He is a former registered Republican and is not anticipated to participate in the forum.
District 3
Democrats
Bobby Kuppers, Incumbent
Ricky Snyder
Republicans
Steve Higdon is running unopposed and is not expected to participate in the forum.
Previously: