Tornado Risk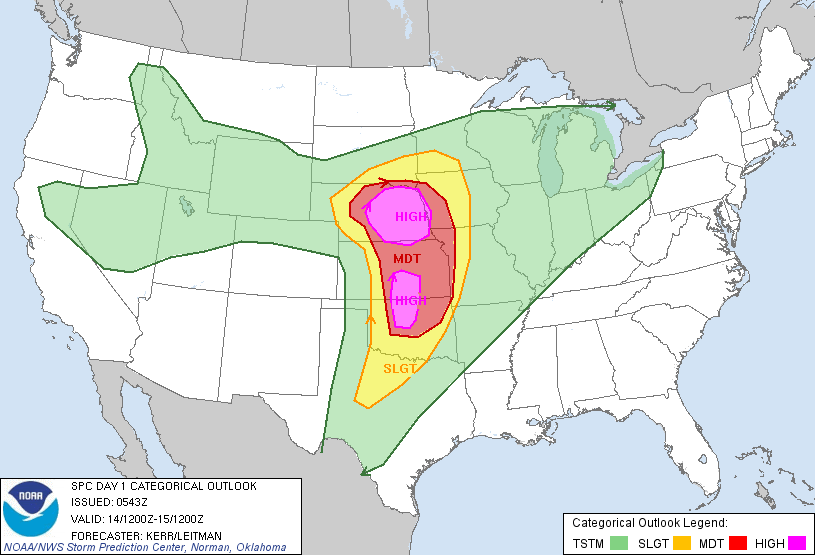 There is expected to be a tornado outbreak in the plains today, and since I will (for the most part) be out of the loop at the 11th district Republican party convention this morning and afternoon and will not be able to provide timely updates, I have posted information on how you can follow the outbreak and monitor the storms, the storm chasers and the public safety response to this dangerous weather event.

Breaking Severe Weather Events

Severe Weather Warnings Courtesy the College of DuPage Meteorology Department

Storm Prediction Center

My Storm Chaser Twitter List

Radio Reference (the best place to listen to public safety radio traffic online)

Radio Reference Top 50 Feeds When the storms break out and tornadoes hit, the public safety channels with tornado traffic will zoom to the top of the list as people start listening online

National Map


Resources to Track Storm Chasers

Live Storms Network

Chaser TV

Severe Studios

Storm Chase Live

Midwest Storm Chasers and Researchers

TV Stations that Follow Storm Chasers

Channel 9 in Tulsa, Oklahoma

Discovery Channel Chaser Tracker

Radar

Weather Underground National Map of Radars


Damaging Hail Risk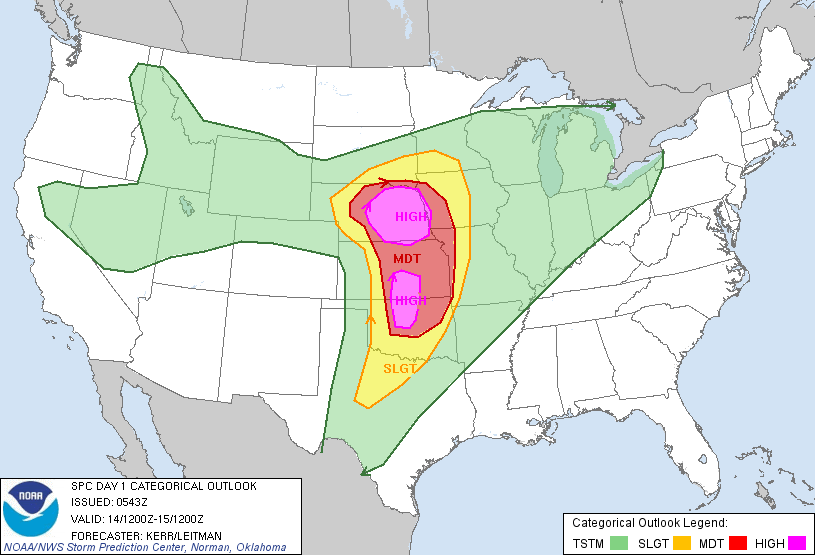 Text of initial advisory from the Storm Prediction Center:
SPC AC 140543
DAY 1 CONVECTIVE OUTLOOK
NWS STORM PREDICTION CENTER NORMAN OK
1243 AM CDT SAT APR 14 2012
VALID 141200Z - 151200Z
...THERE IS A HIGH RISK OF SVR TSTMS TODAY ACROSS MUCH OF CENTRAL
AND EASTERN NEBRASKA AND PARTS OF ADJACENT NORTH CENTRAL
KANSAS/WESTERN IA...
...THERE IS A HIGH RISK OF SVR TSTMS LATE THIS AFTERNOON AND EVENING
ACROSS PARTS OF SOUTH CENTRAL KANSAS INTO NORTH CENTRAL OKLAHOMA...
...THERE IS A MDT RISK OF SVR TSTMS SURROUNDING THE HIGH RISK AREA
ACROSS THE REMAINDER OF CENTRAL AND EASTERN NEBRASKA...WESTERN
IOWA...NORTHWEST MISSOURI...CENTRAL AND EASTERN KANSAS...AND PARTS
OF NORTHERN AND CENTRAL OKLAHOMA...
...THERE IS A SLGT RISK OF SVR TSTMS SURROUNDING THE MODERATE RISK
AREA ACROSS A LARGE PORTION OF THE CENTRAL AND SOUTHERN PLAINS...
...SYNOPSIS...
MODELS ALL INDICATE THAT A STRONG MID/UPPER JET STREAK...NOW DIGGING
INTO THE BASE OF A LARGE-SCALE UPPER TROUGH OVER THE WESTERN
U.S...WILL CONTINUE EASTWARD ACROSS THE SOUTHERN PLATEAU
TODAY...BEFORE NOSING NORTHEASTWARD ACROSS THE SOUTHERN ROCKIES INTO
THE CENTRAL PLAINS BY LATE TONIGHT. THIS IS EXPECTED TO INCLUDE A
90-100+ KT 500 MB JET CORE...WHICH MAY BE PRECEDED BY ANOTHER
SIGNIFICANT SPEED MAXIMUM ACROSS THE SOUTHERN ROCKIES/ CENTRAL
PLAINS REGION DURING THE DAY. GUIDANCE SUGGESTS THAT ASSOCIATED
FORCING WILL CONTRIBUTE TO RAPID INTENSIFICATION OF A SURFACE
CYCLONE TO THE LEE OF THE CENTRAL ROCKIES...WITH A 1000 MB LOW
CENTER DEEPENING BELOW 990 MB ACROSS EASTERN COLORADO INTO SOUTHWEST
NEBRASKA BETWEEN 14/12Z AND 15/00Z. WITHIN ITS WARM SECTOR...A
SOUTHERLY LOW-LEVEL JET WILL STRENGTHEN ACROSS THE SOUTHERN INTO
CENTRAL PLAINS /50+ KT AT 850 MB BY LATE AFTERNOON...INCREASING UP
TO 70 KT DURING THE EVENING/. THIS WILL CONTRIBUTE TO THE
CONTINUING NORTHWARD ADVECTION OF INCREASINGLY RICH MOISTURE
RETURNING OFF THE WESTERN GULF OF MEXICO...BENEATH AT LEAST MODESTLY
STEEP LAPSE RATES. MIXED LAYER CAPE IS EXPECTED TO EXCEED 2000 J/KG
WITHIN A CORRIDOR ACROSS CENTRAL TEXAS THROUGH MUCH OF OKLAHOMA AND
CENTRAL/EASTERN KANSAS...INTO THE VICINITY OF A WARM FRONTAL ZONE
EXTENDING EAST OF THE LOW ACROSS NEBRASKA INTO THE MISSOURI VALLEY.
THIS ENVIRONMENT IS EXPECTED TO BE CONDUCIVE FOR A SIGNIFICANT
OUTBREAK OF SEVERE STORMS...THAT MAY IMPACT PORTIONS OF THE CENTRAL
AND SOUTHERN PLAINS THROUGH MUCH OF THE PERIOD. THIS MAY INCLUDE
SEVERAL TORNADIC SUPERCELLS...AND PERHAPS...BY TONIGHT... THE
EVOLUTION OF A SUBSTANTIAL SQUALL LINE.
...NEBRASKA...
NORTH AND EAST OF THE DRY LINE WRAPPING INTO THE DEEPENING SURFACE
CYCLONE...INTO THE VICINITY OF THE WARM FRONT...CONDITIONS APPEAR
LIKELY TO BECOME VERY CONDUCIVE TO THE FORMATION OF DISCRETE
TORNADIC SUPERCELLS...AS THE EXIT REGION OF THE CYCLONIC MID/UPPER
JET OVERSPREADS THE REGION. THIS COULD OCCUR AS EARLY AS
18-21Z...IF NOT BEFORE...ACROSS PARTS OF SOUTHWEST INTO CENTRAL
NEBRASKA...BEFORE DEVELOPING EASTWARD AND INCREASING IN COVERAGE
ACROSS CENTRAL INTO EASTERN NEBRASKA THROUGH THE REMAINDER OF THE
AFTERNOON. THIS IS WHERE LOW-LEVEL HODOGRAPHS ARE EXPECTED TO
BECOME LARGE AND CLOCKWISE CURVED...AND SUPPORTIVE OF LONG-LIVED
SUPERCELLS CAPABLE OF PRODUCING STRONG TORNADOES.
...KANSAS AND OKLAHOMA INTO NORTH CENTRAL/NORTHWEST TEXAS...
BARRING COMPLICATIONS FROM RESIDUAL EARLY DAY CONVECTIVE
DEVELOPMENT...THE WARM SECTOR ENVIRONMENT AHEAD OF THE DRY LINE
ACROSS MUCH OF CENTRAL/EASTERN KANSAS AND OKLAHOMA PROBABLY WILL
STILL BE CAPABLE OF SUPPORTING LONG-LIVED SUPERCELLS CAPABLE OF
PRODUCING STRONG TORNADOES. HOWEVER...CONCERN EXISTS THAT THE
POTENTIAL COVERAGE OF DISCRETE SUPERCELL STORMS MAY REMAIN SOMEWHAT
SPARSE...PRIOR TO SQUALL LINE EVOLUTION THIS EVENING AS A COLD FRONT
OVERTAKES THE DRY LINE AND SURGES EASTWARD ACROSS THE PLAINS. ONCE
THIS OCCURS...DAMAGING WIND AND LARGE HAIL MAY BECOME THE PRIMARY
SEVERE THREAT.
..KERR/LEITMAN.. 04/14/2012
NOTE: THE NEXT DAY 1 OUTLOOK IS SCHEDULED BY 1300Z
CURRENT UTC TIME: 0806Z (4:06AM)