**3.56am** Here is Part 1 of 3 2 of last night's meeting. I had camera problems and had to split the video of the meeting into three two parts. I will embed the other video below this one later today as I finish them:


**8.86am**

Here is Part 2 of 2 of last night's meeting.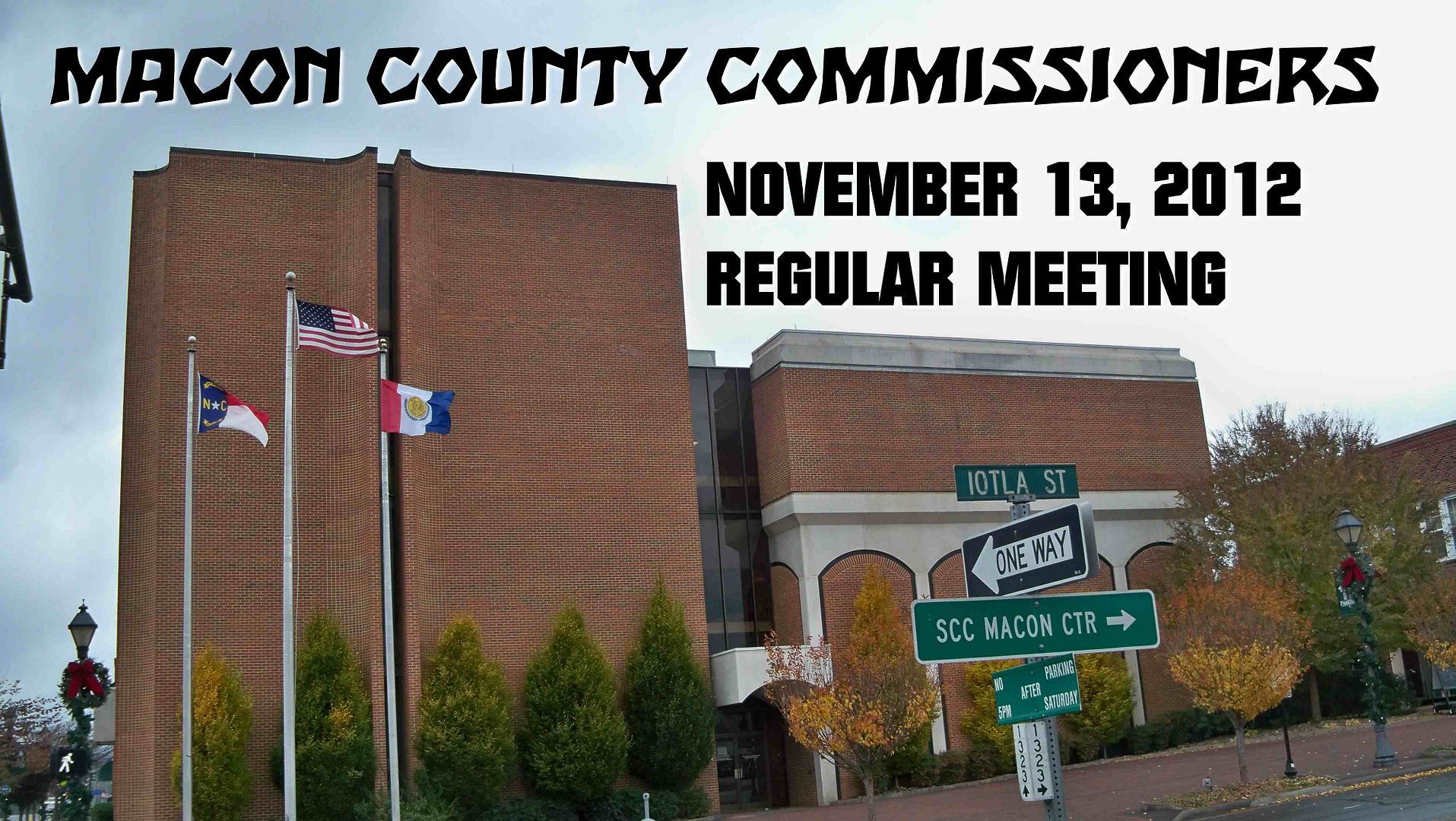 The Macon County Commissioners will be meeting tonight at 6pm. I plan on being there to video the meeting and cover it nearly live on Google Plus. I will embed the video of the meeting on this blog post as soon as I can after it is over.

The meeting agenda is below:

NOVEMBER 13, 2012
AGENDA

1. Call to order and welcome by Chairman Corbin

2. Announcements

3. Moment of Silence

4. Pledge of Allegiance

5. Public Hearing(s)

6. Public Comment Period

7. Adjustments to and approval of the agenda

8. Reports/Presentations
Read2Me Program - Brittney Parker
Economic Impact Study of Athletic Tournaments and Recreation Facilities - Tommy Jenkins and Seth Adams
Consideration of additional recreation sites
9. Old Business
Proclamation for Pancreatic Cancer Awareness Month

Release of sewer easement for William and Carolyn Boatwright
10. New Business
Adult Dental Clinic

Resolution Exempting Architectural Design Project from the Provisions of North Carolina General Statutes Section 143-64.31 - County Attorney
Approval of lease with C.J. Ramey - County Attorney and Jimmy Villiard
Approval of bids for equipment - Russell Stevenson and Jimmy Villard

Mobile Repeater for Nantahala Volunteer Fire Department - Commissioner Tate
Purchase of gas leak detection units for volunteer fire departments
Refinancing of Lake Emory Road property by Macon Citizens Habilities, Inc. (MCH) - County Manager and County Attorney
Revised contract for pool renovations - County Manager
Interlocal agreement for transfer of Cowee School - County Manager
Policy for Voluntary Shared Leave Program - County Manager and HR Director
Set special called meeting for Monday, December 3, 2012 at 6 p.m.
11. Consent Agenda - Attachment #11
(postpone)
All items below are considered routine and will be enacted by one motion. No separate discussion will be held except on request of a member of the Board of Commissioners.
12. Appointments
(postpone)


13. Closed session
(if necessary)


14. Recess until Tuesday, November 20, 2012 at 6 p.m. in the commission boardroom on the third floor of the Macon County Courthouse, 5 West Main Street, Franklin, NC 28734
11.13.12 BOC Agenda Packet for iPad