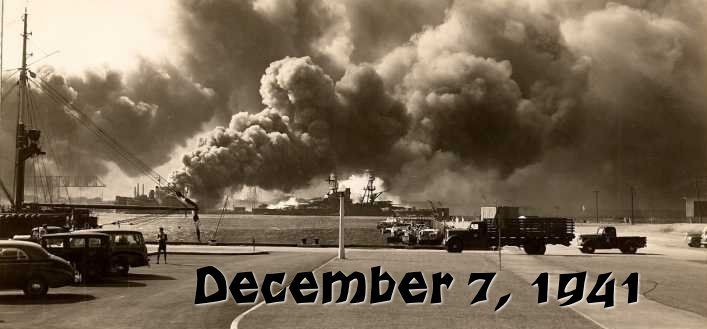 Seventy One Years ago today, Pearl Harbor was attacked by the Japanese Imperial Navy. Four years later, the bulk of the Japanese Imperial Navy was on the bottom of the ocean and Japan lay in ruins.

May we never forget the men and women who died in the attack on Pearl Harbor, and may we never forget to honor those who answered the call to go to war in the aftermath. We owe them a debt that can never be repaid, we can only be grateful for their sacrifice and remember them for as long as our civilization lasts.

I have embedded some audio from that day to give you a flavor of how the news broke back then.



---
Live report from KGU Radio in Honolulu



---
Pearl Harbor Attack Announcement



---
Here is a more complete playlist of audio from that day, and includes the actual moment the news was broadcast by breaking into programming that was occuring at the time:


---

And now, here are some videos that are representative of the attack and the response to the attack on Pearl Harbor:






This short newsreel, produced for the home market with no narration, shows the aftermath of the Japanese attack on Pearl Harbor on December 7, 1941. Footage shows the wrecked seaplane base on Ford Island, the destroyer USS Shaw (DD-373) wrecked in its drydock, the battleship USS Utah (BB-13) capsized, and the mighty USS Arizona (BB-39) a twisted mass of smouldering metal.



Our response included dropping an atomic device on the Japanese city of Hiroshima after we fought our way across the Pacific Ocean at great cost in men and material. The event is dramatically depicted by the BBC in the above video.


A Hollywood recreation from the 2001 film "Pearl Harbor"


The full movie is available on Youtube (until it is taken down for a copyright violation) at https://www.youtube.com/watch?v=QbtAJ1PKz5k



A war bonds promotional newsreel advocating vengeance for the bombing of Pearl Harbor.



Here is the John Ford classic "December 7th" produced for the US Navy.



And here is the first episode in the "Why We Fight" series called "Prelude to War" that gives a wider perspective on what was going on in the world at the time.