**update** Here is video of the meeting: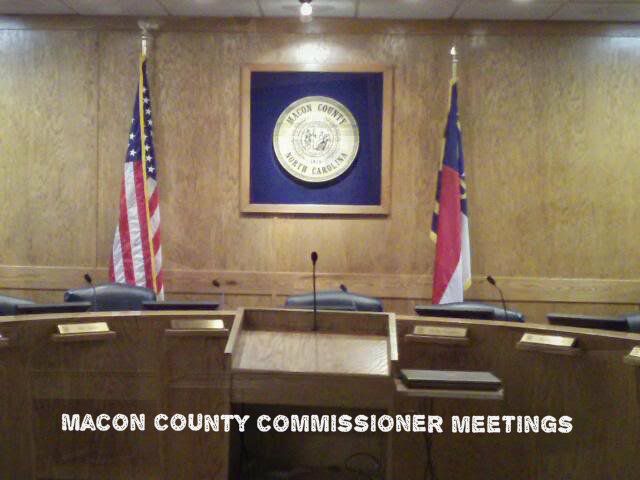 The Macon County Commissioners will be meeting tonight at 6pm. I will be there to cover it and will be posting a nearly live play by play on Google Plus.
I will embed the video of the meeting at the top of this article as soon as I can get it processed.
The agenda is below and the press kit is embedded below that for your convenience.


AGENDA


1. Call to order and welcome by Chairman Corbin

2. Announcements

3. Moment of Silence

4. Pledge of Allegiance

5. Public Hearing(s) - None

6. Public Comment Period

7. Adjustments to and approval of the agenda

8. Reports/Presentations
Update on New Hope Cemetery project - Andrew Baldwin
Presentation of findings regarding archaeological study at proposed Parker Meadows Recreational Park - Paul Webb/TRC
9. Old Business
Consideration of the Classification and Compensation Study
10. New Business
Change Order No. 3 on the Swiss Colony Area Water System Improvements Project - County Manager
Consideration of "A Resolution to Maintain and Support the Current Integrity and Funding for the Parks and Recreation Trust Fund (PARTF)" - Commissioner Tate
Change Order No. 1 on the Macon County Dental Clinic - Finance Director
New Fees at Macon Public Health Center - Public Health Center Director Jim Bruckner
11. Consent Agenda - Attachment #11
All items below are considered routine and will be enacted by one motion. No separate discussion will be held except on request of a member of the Board of Commissioners.
Minutes of the March 12, 2013 meeting
Budget Amendments #148-#149
Tax Refund
Tax Releases
Monthly Ad Valorem Tax Report
12. Appointments
Board of Adjustment (3 seats)

Community Funding Pool (3 seats)
13. Closed session (if necessary)

14. Recess until Thursday, April 18, 2013 at 6 p.m. at the Macon Bank Corporate Office at 220 One Center Court, Franklin, NC 28734 for a joint meeting with the Macon County Board of Education.

NOTE: Tentative plans call for a continuation meeting to be held on Tuesday, April 23, 2013 at 6 p.m. at a location to be determined to hold a joint meeting with the towns of Franklin and Highlands and to conduct other business as needed.