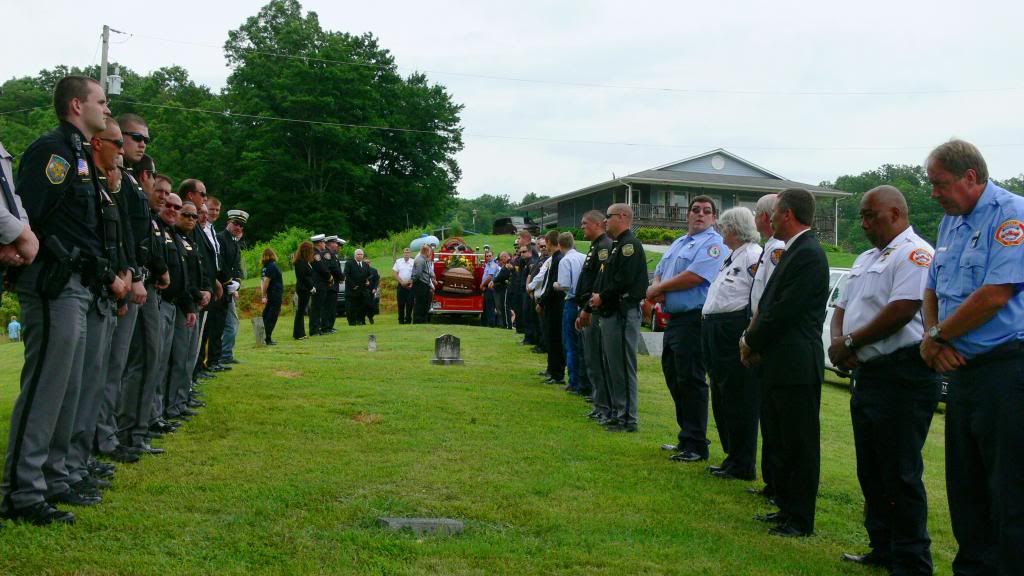 Public safety personnel gathered to show their appreciation and respect for the life and service of Dennis Tippet on Thursday, July 11th, 2013. His body was carried in 'The 37' of the Franklin Fire Department. The body, and his family, were escorted from Macon Funeral Home to Cowee Baptist Church in a line of emergency vehicles that all passed under an American Flag displayed between Ladder 11 and Ladder 12.

The pallbearers ferried the casket between a line of public safety personnel from The 37 to the grave. The Cowee Volunteer Fire Department conducted the graveside rites for Dennis, and for his family.

Here are some photos and video that attempt to convey some measure of the level of love and respect his brothers and sisters have for him, starting with his return home from a medical center in Philadelphia and ending with some photos taken during the ceremony.

In lieu of flowers, memorial donations can be made to Macon Funeral Home to help with funeral expenses, PO Box 1175 Franklin, NC 28744.



See video shot by a person closer to the apparatus.

The Procession Arrives



The Graveside Rites




Flickr Slideshow






Created with flickr slideshow.


View the photos on Flickr