In the endless Summer of Love there is no 9/11. And to tens of millions of dreamy folk on the Left, the Summer of Love never stopped. For those people there is no dangerous Ahmadi-Nejad in Tehran, threatening a fiery new holocaust for Tel Aviv and Washington, DC. There is no nuclear proliferation by mad little mass-murdering Kim Jong Il. There is no Osama Bin Laden stirring up terror cells around the world -- just a poor, confused man somewhere in the mysterious, deeply spiritual East, whom we have offended in some terrible way.

For the Dreamy Left there is no history, and no fundamental human conflict. There was no Japanese attack on Pearl Harbor half a century ago -- except as a terrible misunderstanding, because our parents and grandparents were just so ignorant and racist in that benighted time. There was never a Cold War, there is no necessary war ever, there is no human value worth fighting for. We have transcended all that by our saintly morality and good will. History was mostly a big misunderstanding. Reality is only an agreement. Peace and Love are forever and ever, and nobody has to do anything to make it so, except to wish for it hard enough. If everybody wants it, it will be so.
Source: The American Thinker

Hat Tip: The Freedom Fighter's Journal


As long as I have breath, I will remember that day, and tell others about that day. I will pull out audio, video, and written accounts of that day and show my nephews, nieces, children, and grandchildren.

We must never forget.


Or else, we will end up like these idiots in (where else) AshevilleSan Fransisco: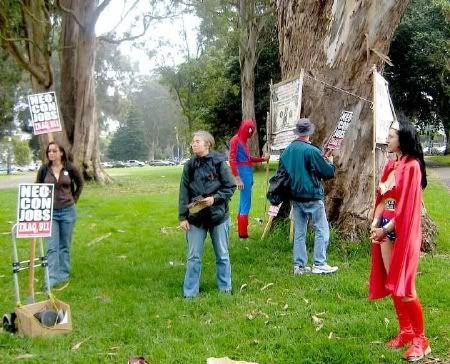 The anti-American War Protesters all gathered in San Fransisco, and the crowd included 9/11 Truthers, International ANSWER, Communists, Idiot Ron Paul Supporters, the Revolutionary Workers Group, Vegans, Cannibis Action Network, Wonder Woman and Spiderman.

Don't believe me? Check out Zombietime's Photo Essay, from whom I swiped the headlining photo for this post.