I heard this yesterday on the Glenn Beck Program, and got a kick out of Governor Mike Huckabee, who took the quiz on air with Glenn, and came up with Romney...which is perhaps indicative of the utility of this quiz...



Your Top Match

You planned to vote for Fred Thompson. Based on your responses, your top candidate for 2008 is below.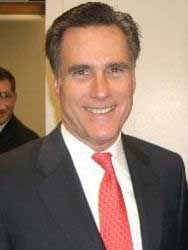 Former Massachusetts Governor Mitt Romney (R)
89.51% match



Your Other Top Matches were:

California Representative Duncan Hunter (R) - 86.42%
Former Tennessee Senator Fred Thompson (R) - 83.95%
Colorado Representative Tom Tancredo (R) - 81.48%

All Fine Choices!!!

Here are how the rest stacked up:

Former Arkansas Governor Mike Huckabee (R) - 80.25%
Kansas Senator Sam Brownback (R) - 74.07%
Arizona Senator John McCain (R) - 74.07%
Former New York City Mayor Rudy Giuliani (R) - 65.43%
Texas Representative Ron Paul (R) - 56.79%
Businessman John Cox (R) - 53.09%
New York Senator Hillary Clinton (D) - 33.33%
New Mexico Governor Bill Richardson (D) - 33.33%
Connecticut Senator Christopher Dodd (D) - 28.40%
Former North Carolina Senator John Edwards (D) - 28.40%
Delaware Senator Joseph Biden (D) - 25.93%
Illinois Senator Barack Obama (D) - 25.93%
Ohio Representative Dennis Kucinich (D) - 8.64%
Former Alaska Senator Mike Gravel (D) - 8.02%

Take the quiz yourself.