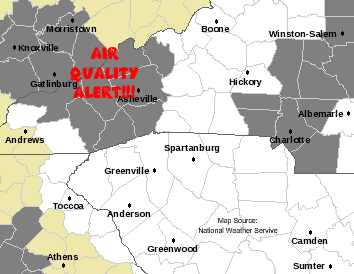 Map Source:
National Weather Service



According to the National Weather Service, an "Air Quality Alert" is in effect today for parts of western North Carolina (West Carolina).

I live in Macon County, less than a mile from the Jackson County line, but 5 or so miles by road. My question is this...will I have to wear a mask today when I go into Jackson County, or will there be a roadblock (for my safety) with people informing me of this "bad air?" /s

Here is the notice from the NWS:

Air Quality Alert
NCZ048-049-051>053-059-063>065-030230-
MADISON-YANCEY-SWAIN-HAYWOOD-BUNCOMBE-NORTHERN JACKSON-
SOUTHERN JACKSON-TRANSYLVANIA-HENDERSON-
INCLUDING THE CITIES OF...CHEROKEE...WAYNESVILLE...ASHEVILLE...
SYLVA...BREVARD...HENDERSONVILLE
1017 PM EDT MON JUN 1 2009

...AIR QUALITY ALERT IN EFFECT FROM 6 AM TO 9 PM EDT TUESDAY...

THE NORTH CAROLINA DEPARTMENT OF ENVIRONMENTAL AND NATURAL RESOURCES
IN RALEIGH NC HAS ISSUED A CODE ORANGE AIR QUALITY ACTION DAY FOR
GROUND LEVEL OZONE...IN EFFECT FROM 6 AM TO 9 PM EDT TUESDAY.

AN AIR QUALITY ACTION DAY MEANS THAT GROUND LEVEL OZONE
CONCENTRATIONS WITHIN THE REGION MAY APPROACH OR EXCEED UNHEALTHY
STANDARDS. FOR ADDITIONAL INFORMATION...PLEASE VISIT THE NORTH
CAROLINA DIVISION OF AIR QUALITY WEB SITE AT
WWW.NCAIR.ORG/AIRAWARE/FORECAST/.

$$

...and like a good little Internet surfer, I followed the link (you'd be surprised how many people are too stupid to be able to do that) and found
this notice
:


Code

Orange - Air Quality Action Day

for Charlotte and the Asheville Ridge Tops on Tuesday, June 2, 2009!


OPEN BURNING IS

PROHIBITED

in the Charlotte and Asheville regions!

Date: Monday, June 1, 2009 - 15:00 EDT


Forecast Valid: Tuesday, June 2, 2009


Today's Air Quality Conditions: Ozone is on the rise and is on track to reach the upper Code Yellow around Charlotte and the middle Code Yellow elsewhere across the Piedmont and sandhills. Ozone around Rocky Mount and the Asheville region will remain in Code Green. Particle pollution is on an upward trend but it should hold in the Code Green. For a display of the most recent air quality conditions throughout the remainder of this afternoon, please visit the NC DAQ monitoring site or the US EPA's AIRNOW web site.


General Forecast Discussion: A small high pressure system over the Midatlantic will slide off the coast tonight and weaken. Meanwhile, a weak ridge will build at the middle and upper levels over the southeastern US, which will promote sinking and warming air with little in the way of clouds. Relatively light winds will lead to a bit of stagnation and allow ozone to rise a bit higher than today. Ozone around Charlotte should reach the Code Orange tomorrow afternoon, while ozone in other forecast regions rises well into the Code Yellow. The Asheville Ridge Tops may experience Code Orange ozone tonight or again tomorrow night as high ozone blows in from Knoxville or Atlanta. Particle pollution will rise into the Code Yellow.


Outlook: The weak upper ridge will weaken by early Wednesday and a cold front will begin pushing into the Appalachians later in the day. Winds will increase and there will be a slight chance of an afternoon storm. Winds will be high enough to disperse any pollutant buildup on Tuesday, and air quality should be no worse than middle Code Yellow. The front will slowly approach the state Thursday and Friday and finally push through the state early Saturday. Skies will be mostly cloudy with a decent chance of showers and thunderstorms. Air quality is expected to reside in the Code Green.


(Witcraft - NC Division of Air Quality)
What is the point of all this whooping and hollering? The same website gives us a list of things that we could do different today (I certainly won't) on a bad air day.
I'll give you guys a full report on the condition of the air in Jackson County and if I should succumb to the bad air, avenge me!!!
**7.51am** I have arrived safely at WCU in Cullowhee. Neither my companion or I could tell the difference in the quality of the air. I snapped a few photos to document the adventure...

Knowing it might be the last time I ever looked upon the sweetness of my home county, I looked back and shed a tear for Macon County, the Land of Clean Air.

Looking from Macon County (Good Air) into Jackson County (Bad Air).
This is the view into the valley of Bad Air, where the I imagined the good people of Jackson County gasping for breath, wishing that they lived in the Land of Clean Air.
I looked up, and wondered if I was seeing a wave of Bad Air above me, in the process of descending like the Black Smoke of a Martian War Machine. I trembled a little.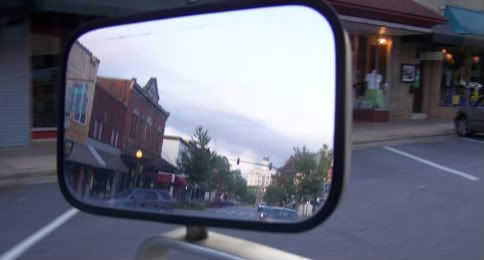 I was afraid to stop in Sylva for fear of the Bad Air, so I kept moving along. I snapped this photo as I was leaving...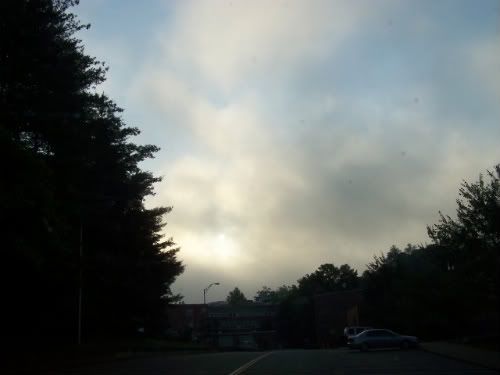 ...and here is a photo of the darkened campus of Western Carolina University, as a wave of deadly Bad Air rolled above. Upon parking, I quickly scurried indoors, fleeing the Bad Air that, on an ordinary day, would just be a foggy morning.
**9.43am**
--
BREAKING NEWS
-- I just spoke with a guy who has asthma...and he says I can relax...the air here is just fine. That's a load off my shoulders. Now, I can eat my lunch outside.