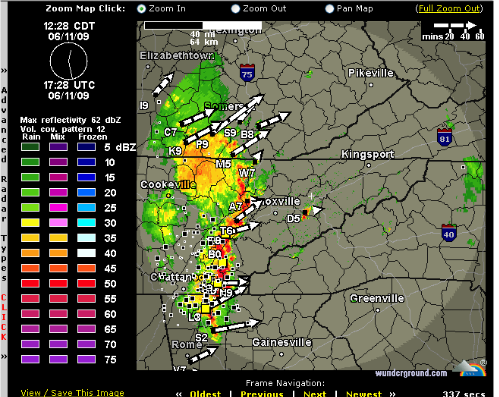 Screenshot of Knoxville NEXRAD courtesy of Weather Underground
It looks like the mountains of western North Carolina are in for some severe weather this afternoon. Here is the latest from the National Weather Service:
Severe Thunderstorm Warning
SEVERE THUNDERSTORM WARNING
NCC075-087-099-113-173-175-111930-
/O.NEW.KGSP.SV.W.0175.090611T1803Z-090611T1930Z/
BULLETIN - EAS ACTIVATION REQUESTED
SEVERE THUNDERSTORM WARNING
NATIONAL WEATHER SERVICE GREENVILLE-SPARTANBURG SC
203 PM EDT THU JUN 11 2009
THE NATIONAL WEATHER SERVICE IN GREENVILLE-SPARTANBURG HAS ISSUED A
* SEVERE THUNDERSTORM WARNING FOR...
GRAHAM COUNTY IN WESTERN NORTH CAROLINA...
THIS INCLUDES THE CITY OF ROBBINSVILLE...
SOUTHWESTERN HAYWOOD COUNTY IN WESTERN NORTH CAROLINA...
JACKSON COUNTY IN WESTERN NORTH CAROLINA...
THIS INCLUDES THE CITY OF SYLVA...
MACON COUNTY IN WESTERN NORTH CAROLINA...
THIS INCLUDES THE CITY OF FRANKLIN...
SWAIN COUNTY IN WESTERN NORTH CAROLINA...
THIS INCLUDES THE CITY OF BRYSON CITY...
SOUTHWESTERN TRANSYLVANIA COUNTY IN WESTERN NORTH CAROLINA...
* UNTIL 330 PM EDT
* AT 200 PM EDT...NATIONAL WEATHER SERVICE DOPPLER RADAR INDICATED A
LINE OF SEVERE THUNDERSTORMS CAPABLE OF PRODUCING DAMAGING WINDS IN
EXCESS OF 60 MPH. THESE STORMS WERE LOCATED ALONG A LINE EXTENDING
FROM 21 MILES WEST OF TAPOCO TO 25 MILES SOUTHWEST OF TAPOCO TO 41
MILES SOUTHWEST OF SANTEETLAH LAKE...OR ALONG A LINE EXTENDING FROM
28 MILES SOUTHWEST OF MARYVILLE TO 18 MILES NORTHWEST OF MURPHY TO
23 MILES SOUTHWEST OF MURPHY...AND MOVING NORTHEAST AT 40 MPH.
* LOCATIONS IMPACTED INCLUDE...
TAPOCO...
SANTEETLAH LAKE AND SANTEETLAH...
ROBBINSVILLE AND FONTANA VILLAGE...
FONTANA LAKE...
STECOAH AND NANTAHALA LAKE...
RAINBOW SPRINGS...
PRECAUTIONARY/PREPAREDNESS ACTIONS...
THIS LINE OF SEVERE THUNDERSTORMS IS CAPABLE OF PRODUCING WIND SPEEDS
OF 60 TO 75 MPH. THESE WINDS CAN TOPPLE TREES AND POWER LINES. SEEK
SHELTER ON THE LOWEST LEVEL OF YOUR HOME OR OFFICE BUILDING. AVOID
ROOMS THAT MAY BE DAMAGED BY FALLING TREES. IF DRIVING...PULL OVER IN
A CLEAR AREA AWAY FROM LARGE TREES AND POWER POLES.
TO REPORT DAMAGING WINDS...LARGE HAIL...OR FLOODING...THROUGH OUR
AUTOMATED REPORTING SYSTEM...CALL OUR TOLL FREE NUMBER...
1 8 7 7...6 3 3...6 7 7 2.
A SEVERE THUNDERSTORM WATCH REMAINS IN EFFECT UNTIL 800 PM EDT
THURSDAY EVENING FOR NORTHEAST GEORGIA AND WESTERN NORTH CAROLINA AND
CENTRAL SOUTH CAROLINA.
&&
LAT...LON 3543 8401 3553 8384 3557 8370 3557 8350
3567 8334 3567 8329 3569 8326 3527 8292
3502 8302 3499 8352 3514 8366 3514 8374
3523 8370 3525 8371 3524 8385 3521 8392
3523 8400 3531 8404
TIME...MOT...LOC 1803Z 241DEG 33KT 3546 8429 3524 8427
3493 8433
$$
RWH
I'll be tracking developments and posting pics to my
twitter
and
twitpic
accounts, as well as my
personal weatherpage
. I have the NOAA Radio Internet stream at the top of the right sidebar if you don't have access to a NOAA Radio where you live or work.
Everybody stay safe, and stay out of the way of any lightning and strong winds that may come from these dangerous storms as they cross our area.