**Jan 16th 3.41am** Here is the video of this three plus hour meeting of the Macon County Commissioners:



**9.26am Jan 11th**

Here is the audio from last night's three hours plus marathon meeting of the Macon County Commissioners:
Right Click to Download MP3
It may be another 24 hours before I can get the video out. I apologize for the delay.
The Macon County commissioners will be meeting tonight at 6pm. There will be a service award presentation to county employees and a reception for those employees and newly minted county commissioner James Tate prior to the regular meeting at 5:30pm.

I will be at both events and will cover the meeting via my @ThunderPig twitter account [ http://twitter.com/ThunderPig ] you can follow the meeting via the previous link or on the widget below the agenda. I will have audio available tonight a couple of hours after the meeting and hope to have the video edited and uploaded by late tomorrow afternoon.

The agenda and other meeting documents are below:
MACON COUNTY BOARD OF COMMISSIONERS
JANUARY 10, 2012
AGENDA
5:30 p.m. Presentation of county service awards per Attachment #1 and reception for service award recipients and Commissioner Tate
Call to order and welcome at 6 p.m. by Chairman Corbin
Announcements
Invocation
Pledge of Allegiance
Public Hearing (6:00 p.m.) – Proposed Macon County Community Transportation Program Application
Public Comment Period
Adjustments to and approval of the agenda
Reports/Presentations
Update on Smoky Mountain Center – Shelly Foreman, Director

Macon County Community Foundation United Gift Fund – Louise Henry

Update on dialysis center – Commissioner Beale

Board member committee assignments – Chairman Corbin
Old Business
New Business
Community Transportation Program Resolution – Kim Angel – Macon County Transit Director

Community Transformation Grant Application – Jim Bruckner and Becky Barr with Macon County Public Health

Right-of-way Agreement with Duke Energy – County Manager

Funding for local match for airport paving project – County Manager

Improvements to Small Business Development Center (incubator building) – County Manager

Improvements to new Sheriff's Department office space – County Manager

Barrett Building elevator construction project – County Manager

NC Department of Transportation proposal regarding McCoy Bridge – County Manager
Consent Agenda – Attachment #11
All items below are considered routine and will be enacted by one motion. No separate discussion will be held except on request of a member of the Board of Commissioners.
Minutes

Budget Amendments

Tax Releases

NC 2-1-1
Appointments
Planning Board (2 seats)
Closed session – Per G.S. 143-381.11(5), with regard to property acquisition
Adjournment/Recess
Here is info regarding a public hearing scheduled tonight: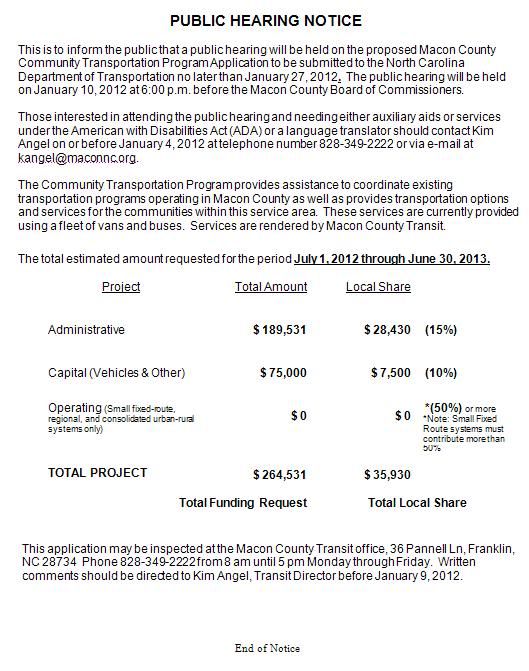 ---
A couple of bid proposals (image file then PDF of bid form (including download link):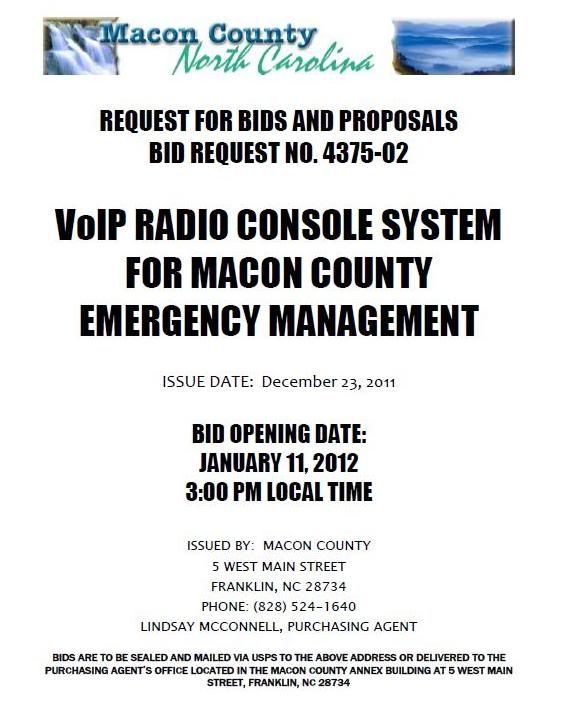 BIDNO4375-02
---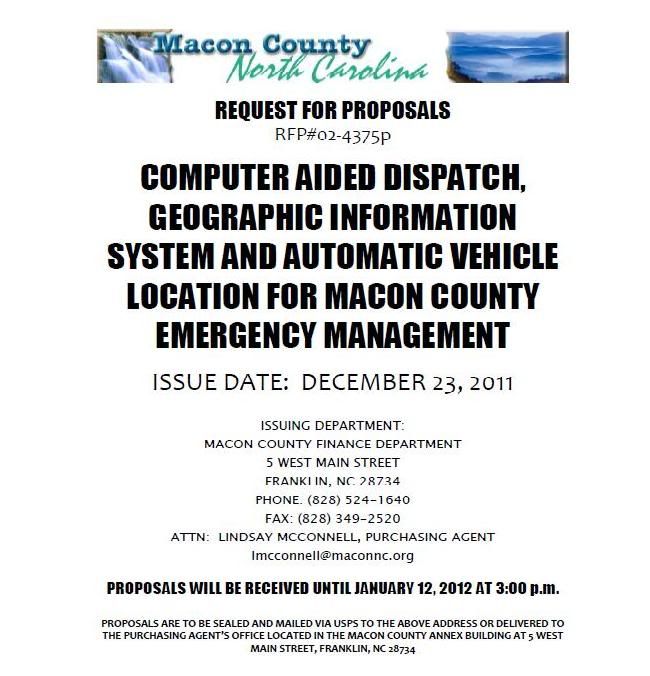 RFP02-4375p