**3.50am** Here is the video of the meeting:






**9.52pm**

Here is the audio from tonight's meeting:
Download MP3
For an overview of what happened in tonight's meeting, see my play by play as it happened on G+.
I will have the video uploaded before 6am, thanks to the newly refurbished desktop a helpful reader has donated to the cause.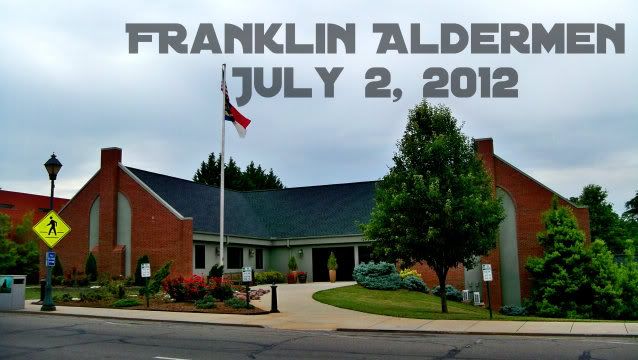 The Franklin Town Board of Aldermen will be meeting tonight at 7pm and I will there to cover the meeting as it happens on the Google Plus social network [Link to my play by play of this meeting]. I will still use Twitter (search #MaconGov), but only after I've posted an account to Google Plus.


Meeting Agenda
Monday July 2, 2012 - 7:00 p.m.


1. Call to order -Mayor Collins

2. Approval of the June 4, 2012 board minutes.

3. Public hearing 7:05 p.m. on Alcoholic Beverage Control store financing

4. Public session

5. Administrative reports
A.) Report on sign sweep- Derek Roland
B.) Report on Insurance Services Office (ISO) - Chief Warren Cabe
C.) Water study update and recommendations- Sam Greenwood

6. Committee reports
A.) Administration committee report- Vice Mayor Verlin Curtis & Aldermen Billy Mashburn

7. Old (unfinished) business- None

8. New business
A.)Aldermen discussion- Vice Mayor Verlin Curtis

9. Legal
A.)Approval of Alcoholic Beverage Control store lease- John Henning Jr
B.)Easements- John Henning Jr
C.)Planning board ordinance- John Henning Jr

10. Adjourn


Franklin Aldermen Agenda Packet 07-02-2012