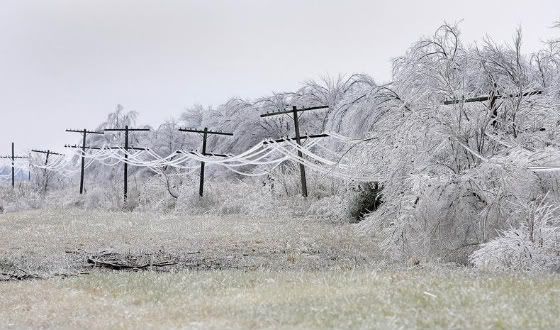 A week after over a foot and a half of snow fell in the High Country, around a half inch of ice has caused thousands of power outages in the area.

According to BREMCO's website, over 22,000 BREMCO customers, that's good for over 30 percent of their customers, are without power. At the outages' peak, around 35,000 BREMCO customers were in the dark. BREMCO's Rene Whitener said the outages began around 5:00 Friday morning.

Whitener said crews from Blue Ridge Electric as well as crews from EnergyUnited, Union Power, Pee Dee, Lumbee River, Central EMC, Pike Corporation, Carter Utility Services and Asplundh Tree Expert Company have been called to the High Country to try and restore power, but it could be later this weekend before power is restored to all customers. She said crews will resume work in a few hours. Whitener said, "Some outages may continue throughout the weekend due to the extent of ice damage to the electrical system and tree clearing to access roads and outage locations. Restoration is also lengthy due to line crews needing to cut away and remove fallen trees on roads and other areas blocking access to outage locations."

Blue Ridge Electric members should report outages by calling the cooperative's Powerline at 1-800-448-2383. Here's the link to

BREMCO's real-time outage map

.

A New River Light and Power representative said it will likely be tomorrow before they restore power to all Boone residents.

When last updated, Progress Energy's power outage map reported over 1,000 outages in Avery County. Here's the link to

Progress Energy's outage map

.


Source:
Go Blue Ridge





Conditions are still pretty bad up there, with about 20,000 still without power as I write this, so not many people have had the luxury of Internet access to upload any videos they might have taken of the damage. So far, I've only noted one video on You Tube. I did, however, find a late one from last week's snow storm, and I'll lead off with that...







This first video was shot by web designers at
Timeline Group
after last weekend's snowstorm and gives us some views of western North Carolina under a covering of snow.





A nearly 8 and a half minute exploration of the damage caused by the ice in one community.