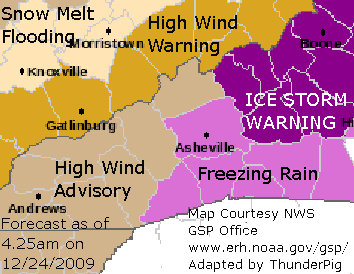 Oh No! Here we go again!!! It looks like some severe weather is bound for portions of western North Carolina for tonight and tomorrow, with an Ice Storm for the northern mountains sure to disrupt Christmas plans for thousands...
In the past, I've mocked people for waiting until the last minute to get provisions for a storm. This time I won't. YOU NEED TO GET OUT NOW AND GET SUPPLIES BEFORE THE POWER GOES OUT.

Here is the latest from the National Weather Service: [
GSP Winter Briefing page
]
URGENT - WINTER WEATHER MESSAGE...CORRECTED
NATIONAL WEATHER SERVICE GREENVILLE-SPARTANBURG SC
410 AM EST THU DEC 24 2009

...SIGNIFICANT ICE ACCUMULATION TONIGHT...


.RAIN WILL OVERSPREAD THE REGION TONIGHT. COLD HIGH PRESSURE IS FORECAST TO FUNNEL SUB-FREEZING TEMPERATURES SOUTHWEST INTO
WESTERN NORTH CAROLINA...CAUSING PRECIPITATION TO FALL AS FREEZING RAIN. ICE ACCUMULATIONS OF ONE QUARTER INCH OR MORE IS EXPECTED WEST OF LINE FROM LENOIR TO MARION AND ACROSS THE NORTHERN MOUNTAIN VALLEYS. A LESSER... BUT STILL CONCERNING LEVEL OF ICE MAY BE SEEN ELSEWHERE ALONG THE I-40 CORRIDOR FROM ASHEVILLE TO STATESVILLE...AND ALONG THE US 74 CORRIDOR FROM HENDERSONVILLE TO SHELBY.
AVERY-YANCEY-MITCHELL-CALDWELL MOUNTAINS-GREATER CALDWELL-BURKE MOUNTAINS-GREATER BURKE-MCDOWELL MOUNTAINS-EASTERN MCDOWELL-INCLUDING THE CITIES OF...NEWLAND...SPRUCE PINE...LENOIR...MORGANTON...MARION
410 AM EST THU DEC 24 2009
...ICE STORM WARNING IN EFFECT FROM 6 PM THIS EVENING TO NOON EST FRIDAY...
THE NATIONAL WEATHER SERVICE IN GREENVILLE-SPARTANBURG HAS ISSUED AN ICE STORM WARNING...WHICH IS IN EFFECT FROM 6 PM THIS EVENING TO NOON EST FRIDAY. THE WINTER STORM WATCH IS NO LONGER IN EFFECT.
RAIN WILL TRANSITION TO FREEZING RAIN TONIGHT BEFORE TAPERING OFF LATER FRIDAY MORNING. ICE ACCUMULATIONS OF ONE QUARTER TO OVER ONE HALF INCHES IS EXPECTED ACROSS THE WARNING AREA...WITH THE HIGHEST TOTALS EXPECTED ON EAST-FACING SLOPES OF THE BLUE RIDGE ESCARPMENT GENERALLY ALONG AND NORTH OF INTERSTATE 40. IN ADDITION TO THE ICE...SOUTHEAST WINDS MAY REACH 25 TO 35 MPH ACROSS THE NORTH CAROLINA MOUNTAINS. THE WINDS MAY GUST TO BETWEEN 40 AND 50 MPH LATE TONIGHT INTO FRIDAY MORNING...MAINLY ABOVE 3500 FT. THESE ACCUMULATIONS AND WINDS WILL LIKELY CAUSE POWER INTERRUPTIONS AND HAZARDOUS ROAD CONDITIONS.
PRECAUTIONARY/PREPAREDNESS ACTIONS...
AN ICE STORM WARNING MEANS SEVERE WINTER WEATHER CONDITIONS ARE EXPECTED OR OCCURRING. SIGNIFICANT AMOUNTS OF ICE ACCUMULATIONS WILL MAKE TRAVEL DANGEROUS OR IMPOSSIBLE. TRAVEL IS STRONGLY DISCOURAGED. COMMERCE WILL LIKELY BE SEVERELY IMPACTED. IF YOU MUST TRAVEL...KEEP AN EXTRA FLASHLIGHT...FOOD...AND WATER IN YOUR VEHICLE IN CASE OF AN EMERGENCY. ICE ACCUMULATIONS AND WINDS WILL LIKELY LEAD TO SNAPPED POWER LINES AND FALLING TREE BRANCHES THAT ADD TO THE DANGER.