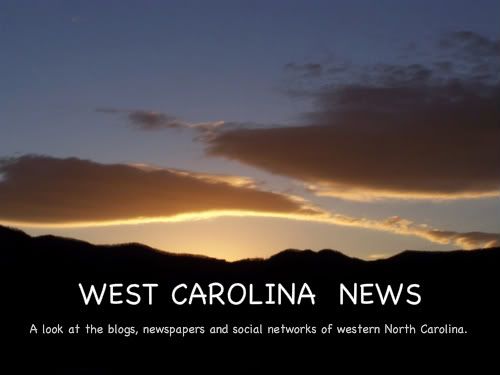 I've been VERY remiss in not keeping a regular schedule of posting here, and I mean to change that, starting today and getting back to overwhelming you with posts.
Here are some clippings of the news in western North Carolina from newspapers, blogs and news sites on the Internet, especially those West of the Balsams that are eschewed by the Main Stream types who think the world revolves around Asheville:
Winter Weather Forecast (most of this should be East of the Balsams)

...MAJOR WINTER STORM TO AFFECT THE AREA FRIDAY THROUGH SATURDAY AFTERNOON...

.A COASTAL STORM SYSTEM IS EXPECTED TO SPREAD PRECIPITATION OVER THE MOUNTAINS FRIDAY INTO SATURDAY. TEMPERATURES ARE EXPECTED TO BE WARM ENOUGH FOR PRECIPITATION TO FALL MAINLY AS SNOW ACROSS MUCH OF THE MOUNTAINS...WHILE A MIXTURE OF RAIN...SLEET AND SNOW IS EXPECTED IN THE PIEDMONT. SIGNIFICANT ACCUMULATIONS OF SNOW ARE POSSIBLE...ESPECIALLY ACROSS THE NORTH CAROLINA MOUNTAINS AND FOOTHILLS...AND PIEDMONT AREAS ALONG THE I-40 CORRIDOR.


...WINTER STORM WATCH IN EFFECT FROM FRIDAY MORNING THROUGH
SATURDAY AFTERNOON...

THE NATIONAL WEATHER SERVICE IN GREENVILLE-SPARTANBURG HAS ISSUED A WINTER STORM WATCH...WHICH IS IN EFFECT FROM FRIDAY MORNING THROUGH SATURDAY AFTERNOON.

SNOW...POSSIBLY MIXED WITH SLEET AND RAIN...WILL SPREAD INTO THE
WESTERN PIEDMONT OF NORTH CAROLINA...AS WELL AS NORTHEAST PORTIONS
OF UPSTATE SOUTH CAROLINA FRIDAY MORNING. THE PRECIPITATION IS
EXPECTED TO FALL MAINLY AS SNOW THROUGH MUCH OF THE AFTERNOON...ALTHOUGH A CHANGE TO A MIX OF SLEET AND RAIN IS POSSIBLE ALONG AND SOUTH OF I-85 DURING THE EVENING. PRECIPITATION WILL CONTINUE THROUGH MUCH OF SATURDAY NIGHT BEFORE GRADUALLY TAPERING OFF EARLY SATURDAY.

STORM TOTAL SNOWFALL IS EXPECTED TO RANGE FROM 2 TO 4 INCHES
IN AREAS SOUTH OF I-40...TO 4 TO 6 ACROSS THE NORTHWEST PIEDMONT.
LOCALLY HIGHER AMOUNTS WILL BE POSSIBLE WITHIN HEAVIER BANDS OF PRECIPITATION.

PRECAUTIONARY/PREPAREDNESS ACTIONS...

A WINTER STORM WATCH MEANS THERE IS A POTENTIAL FOR SIGNIFICANT SNOW...SLEET...OR ICE ACCUMULATIONS THAT MAY IMPACT TRAVEL.

CONTINUE TO MONITOR THE LATEST FORECASTS.




Source:
National Weather Service
Andrews...it's the infamous cartruck...

During this time of year, law enforcement is called a lot with noise complaints all coming from two guys.

Steve Clark and Robert Hamilton spend a lot of time cruising the streets of Andrews and the surrounding areas with loud music blaring from their car – cartruck, that is.

With almost 200 hours put into the project each year, Clark and Hamilton use Gorilla tape and coaxial cable to attach more than 71,000 lights to the Chevrolet Celebrity, which is welded with a Datsun pickup bed and an exhaust pipe from a Mack truck.

"We're bringing Christmas cheer," Hamilton said.

"You could look at the people's houses and they didn't have any lights up. They didn't have a Christmas tree in the house, but it was full of people. They all came out to look," he added of the first year he drove cartruck around the area. Clark said it's easier than the traditional way of spreading cheer.


Source:
Andrews Journal
You know me. I was not satisfied with the story above. It lacked a visual aid, like a photo or something. I found a video (probably taken with a cellphone) of the Car Truck of Andrews in action:
Cherokee County...Local Farmers branching out...

Farmers who make their entire livelihood from working the land are almost a relic from the past in Cherokee County.

As the number of large farms has steadily dwindled, a new type of farmer has emerged, one who can forge a living from an acre or two growing for a specialty market.

Keith Wood has farmed with his brother Eddie Wood in the Andrews Valley for years. He also works full time for the N.C. Extension Service in Cherokee County. "I don't know anyone who derives 100 percent of their income from farming anymore. There are a few who get most of their finances from farming," he said. "There are more part-time farmers than anything."

According to the N.C. Agricultural Census, in 1940 Cherokee County had 2,000 farms. That number declined to 288 by 2007.


Source:
Cherokee Scout
Graham County...County Commissioners challenge accuracy of voter registration list...

The Graham County Board of Commissioners wants the county's election office to develop an accurate list of registered voters in Graham County.

The commission last Thursday issued a directive for elections officials to perform a "wellness check" of the voter registration list because of concerns the current list isn't accurate.

Commissioner Billy Cable said he wanted to get an accurate list prior to the recent court battle between commissioners and the Graham County Election Board.

"I just want to know how many registered voters there are in Graham County," Cable said. "People ask me all the time. This came up before the court case. This has nothing to do with it."

A superior court judge ruled Nov. 30 the county's election board — and not the county commission — is empowered by state law to hire and fire within the elections office without interference from commissioners as long as the election board stays within budget.

The election board filed the lawsuit because the commission refused to pay a part-time worker the election board had hired.

Swain County...Candlelight procession tells the Nativity Story...

While a light, chilly rain may have watered down attendance, organizers of last Saturday's Spirit of Christmas event didn't let it extinguish the mood.

About 50 people came out for the event in downtown Bryson City. This was less than half last year's turnout of 120 people, said event organizer Sharon Chilson.

The evening started at 5 p.m. Children were able to post letters to Santa and enjoy cookies at the Swain County Chamber of Commerce.

Then, at 7 p.m., the Light-A-Light memorial tree at the intersection of Main and Everett streets was dedicated. Afterward, participants lit candles and walked down Everett Street, singing traditional Christmas songs as they went.

Macon County...REACH of Macon County has handled 800+ court cases in 2009...

REACH of Macon County and the services they provide in the community, including a new outreach program to the Latina population, were discussed at the League of Women Voter's meeting on Thursday, Dec. 10.

REACH stands for Resources, Education, Assistance, Counseling and Housing. Ann Van Harlingen, executive director of REACH of Macon County, said that REACH is a very small agency with a staff of about 12 people plus 12 board members and volunteers. REACH partners with other agencies in the community, including law enforcement, Kids Place, the Department of Social Services and the District Attorney's office.

"As of today's date, from January first of this year we have had more than 800 court cases in Macon County, which is a huge number," Van Harlingen said.

Some 25-35 percent of the case loads involved individuals from other cultures, according to Van Harlingen.

"We serve a large Hispanic community," she added.


Source:
Franklin Press
More in Macon County...Highlands School students to receive free dental care

Fluoride rinses aren't usually part of the school curriculum, but a new program at Highlands School will make weekly rinses available to students to help improve dental health. Rinses are expected to begin in January.

"I think it's great," said Principal Brian Jetter. "What a great service for kids who aren't getting enough fluoride. Plus, it's a way to have an annual check-up to make sure there are not any problems arising. It's a great thing for the Rotary clubs to do."
The program is a joint effort of Mountaintop and Highlands Rotary Clubs. The program has been implemented and modeled after one at Blue Ridge School and Summit Charter School and has been deemed a success.


Source:
The Highlander
Even more from Macon County...Road failures cast uncertainty on Wildflower's future

In 2005, two investment partners from Atlanta broke ground on a massive project on the slopes of Cowee Mountain in north Macon County with hopes of creating a new paradigm for mountainside development in Western North Carolina.

However, four years later, the road system is plagued by landslides, many of the lots are in foreclosure and only two homes have actually been built on the 2,500-acre development.

When a mid-November rain storm dumped three inches in Macon County, Thompson Road, a key road through the development, gave way, triggering a landslide, burying a home site below under a half-acre of debris. More significantly, the slide raises questions about the stability of the remaining 30 miles of roads in the development. After the slide, Macon County Emergency Services Director Warren Cabe contacted the North Carolina Geological Survey to ascertain if the road collapse posed a threat to property owners down slope from the Wildflower development.

"After we noticed there was a slide there, we notified property owners in the valley just so they could know what was going on above them," Cabe said. "We wanted them to hear it from us instead of reading it in the newspaper."

The study conducted by North Carolina Department of Environment and Natural Resources Senior Geologist Rick Wooten concluded that the area affected by the slide was still unstable.

"The lowermost portion of the deposit spilled over a steep road cut for a driveway above Thompson Road. Large trees, many with root balls still attached, were pushed over, snapped off, and partially buried by debris flow material in the toe area," the report read. "Unstable embankment material remains below the eastward and westward extensions of the main scarp. This unstable material will probably continue to move."


Source:
Smoky Mountain Times
Jackson County...Parent taking complaints about teen club to Sylva board

Local parent Brian Bartel will be asking Sylva leaders during their regular meeting Thursday morning, Dec. 17, to shut down a club aimed at teens in the area.

Bartel will address town board members during their third-Thursday meeting at 9:15 a.m. at Town Hall and says he will ask them to look into Club Offspring, which is located next to the Flowers bread store in the former REACH Thrift Shop location. Bartel said his teens came home from school with a flyer promoting the club that worried him.

"It said 'come as wasted as you want, dressed how you want,' " he said.

More than 100 residents have signed a petition requesting that the club be shut down. Bartel said he would present those signatures to the board Thursday.

Club Offspring co-owner Nathan Lang said the club was started as a way to minister to at-risk youth in the area by him and his son Russell. Though the flyers promoting the club were "on edge," he said that no alcohol, drugs or fighting are allowed in the facilities.

"With so much media clamoring for our teens' attention, one must be a little on the edge to get noticed," he said. "You may notice that we didn't say to come to Club Offspring to get as 'wasted as you want,' or to get as 'high' as you want, or to dress/undress as you want. These at-risk teens are already doing these things. And we welcome them in to our no alcohol, no drugs environment to have fun with their friends regardless of how messed up they are. They are getting messed up without us already. We are there for them when they are ready to make a positive step in their lives and have fun without the illegal element."


Source:
The Sylva Herald Blog
(The Sylva Herald Website is currently down)

More from Jackson County...

One of the many joys of my life is to listen to the owls call out at night. I hear owls much more often than I see them. Sunday, when a foggy day turned surprisingly warm, I took off to examine the neighborhood.



A flash of wings caught my attention and I turned to see a barred owl landing on a tree limb. The owl stared at me. I stared at the owl. Even though I'd left the "right" camera and the "right" lens at home, I snapped away and bagged a few grainy shots.



It is one thing to know how an owl can turn its head almost completely around and another to actually see it. The owl was facing me and then smoothly swiveled its head around until it was looking at me again...and then swiveled its head back to where it started. I stayed there for a few minutes and so did the owl. Neither of us was in any hurry to go anywhere.


Source:
Ruminations from the Distant Hills
I hope to return to making reports from West Carolina at least a twice weekly feature, and to include other areas during the rest of the week.