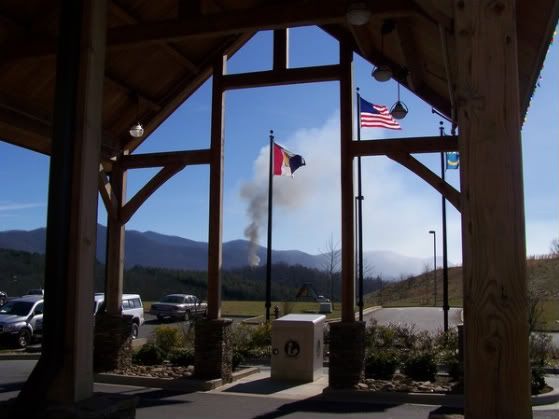 Photo by Bobby Coggins

What a terrible way for someone to end the year.
I had just sat down in the Macon County Library, set up my laptop and turned on my scanner when I heard Franklin and Clarks Chapel Volunteer Fire Depts being called out to a fire in reference to a Dryer overheating and catching fire.
The first unit on the scene advised that it was a working fire and requested additional fire departments to be called. Otto and Cullasaja were called Mutual Aid to help provide a water shuttle to get water to the scene. Eventually, Mountain Valley was called to bring their air van and West Macon was called to set up a draft out of the swimming pool in the yard.
I monitored the radio traffic, took a few photos and set up a camera to capture a time lapse of the smoke trail as seen from my location once I realized that I could see the smoke from the library.
The Red Cross also showed up near the end of the call to render assistance to what ever family has lost their home in this fire.
Here is a time lapse of the fire as seen from my location at the Macon County Public Library near the end of Siler Road looking toward Kovacs Rd:
During the course of the fire, several juveniles became a nuisance (according to the radio traffic) and law enforcement had to be dispatched to the scene for traffic control. One fire fighter was treated at the scene by EMS for smoke inhalation. I did not copy further traffic regarding the disposition of the volunteer fire fighter or if others had to receive supplemental oxygen or not.
Please remember that if you are near the scene of an accident or fire, don't become a problem by blocking the road, the flow of traffic or interfering with the Fire/EMS or Police in the conduct of their jobs. If you have to watch, watch from a distance, and park where you won't be in the way.