**10-27 at 1.15pm** Here is the full video of the October 26, 2011 meeting of the Macon County Commissioners:

**10.05pm**

Here is the audio from this meeting
Download MP3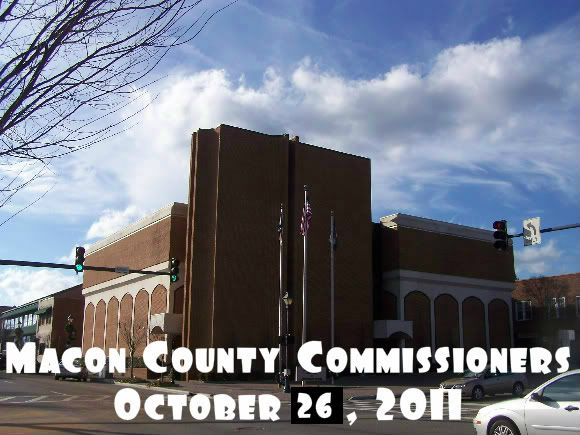 Hat Tip to Scarlet for noticing I had the wrong date on my title card.

The Macon County Commissioners will be reconvening a recessed meeting tonight at 6pm. The agenda and twitter widget are below. I will be there recording video and audio and will post them to this article as soon as I am able.
Also, the meeting agendas will now be available online to the general public, click here to see them.
Macon County Board of Commissioners
October 25, 2011 -- 6 p.m.
1. Reconvene and call to order -- Chairman McClellan
2. Budget revisions -- Finance Director
3. Discussion regarding construction standards
4. Macon K-4 water and sewer change order request from McCarroll Construction -- Terry Bell
5. Consideration of lease agreements -- County Attorney
6. Closed Session -- Per General Statute 143-318.11(3), to preserve the attorney-client privilege