**6.34am, 11-11-2011** Here is the video of the meeting, which lasted over three hours:


**6.44pm, 11-09-2011**

Here is the audio of the meeting:
Download MP3
**Note**

I will not be able to process the audio or video of this meeting until Thursday because I made the mistake of recording the Town Board of Aldermen meeting in HD and forgot how very long that resolution of video takes to process. I apologize for the mistake. It will also preclude my tweeting of this meeting on my @wpig account. I will be using @ThunderPig tonight.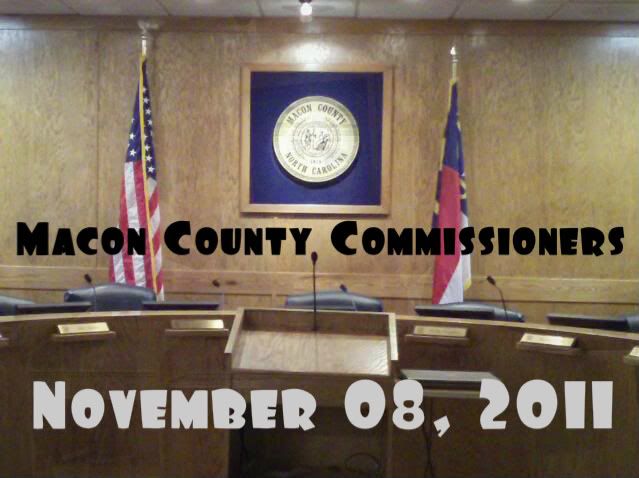 The Macon County Commissioners will be meeting tonight at 6.00pm in the Commissioners Board Room. I will be there to tweet the meeting and record video, but will not be providing live video. You may follow my tweets at
#MaconGov
, using your favorite twitter client, or on the widget below. Once the meeting is over, I will replace the widget with a record of my tweets from the meeting, and I will upload video and audio from the meeting as soon as I am able to process it. Meanwhile, you can
watch the last meeting
.
Macon County Board of Commissioners
November 8, 2011
Agenda
1. Call to order and welcome by Chairman McClellan
2. Announcements -- Introduction of Lori Hall as Finance Director
5. Public Hearings -- None
7. Adjustments to and approval of the agenda
 A. Update on improvements to Holly Springs Community Building
B. Presentation by Nantahala students regarding proposed Nantahala Beach
A. Exchange of real estate in Highlands (Fisher property)
B. NC Highway Patrol telecommunications facility
C. Committee appointments/term limits
A. Adult Dental Services -- Jim Bruckner
B. Abandoned graveyard -- Jerry Sutton
All items below are considered routine and will be enacted by one motion. No separate discussion will be held except on request of a member of the Board of Commissioners.
D. Renewal of Interlocal Agreement with the Town of Highlands regarding recreation facilities and services
13. Closed session per General Statute 143.318.11(3) [download PDF]
to preserve the attorney/client privilege