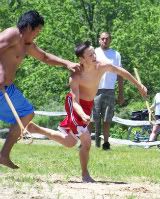 I attended the Nikwasi Celebration in Franklin, NC today, and it was a good event.
Gordon Mercer, of the Public Policy Institute, was the Master of Ceremonies and Cherokee Chief Michell Hicks the Featured Speaker.

There were more speakers, songs, dances, craft demonstrations, Cherokee food, and a stickball exhibition game that was quite intense.

I have a lot of video to edit my way through, and since I lost my MP3 player, my options are limited, as I was using it to catch audio when I had to change memory cards in my camera and when I changed batteries. I plan on having an hour and a half to two hour show out of it by Tuesday afternoon.


Here is what is inscribed on the main marker beside the mound:



NIKWASI MOUND

You are standing on land that has been part of a town for about three thousand years. This mound was the spiritual, political, and physical center of the Cherokee town of Nikwasi. A council house or town house on top of the mound held the sacred fire, and everyone gathered there to hear news, make decisions, dance, and participate in ceremonies. Surrounding the mound were about one hundred houses, a field for playing stickball, and a dance ground, as well as hundreds of acres of crops, orhards, and gardens.

The Cherokee dominated the southern Appalachians for thousands of years. When Alexander Cuming visited Nikwasi in 1730, the Cherokees had men and women leaders in autonomous towns that functioned democratically. Cuming called a council here that was attended by more than two thousand representatives from Cherokee towns. Cuming chose an Emperor, and took a Cherokee delegation to London. In 1761 the British, former allies of the Cherokee, destroyed Nikwasi. After theCherokees rebuilt, the Americans destroyed it in 1776. The Cherokees rebuilt again and lived here until this area was taken by the Treaty of 1819.

A Cherokee legend tells that spirit warriors came out of the mound to help defend the Cherokee against an attack when the Cherokee men were away hunting. The legend goes on to say thst the spirit warriors also saved the town of Franklin from destruction during the Civil War.

The Nikwasi mound is one of the largest surviving mounds in the original Cherokee territory of 140,000 square miles. In 1946, the schoolchildren of Macon County saved their pennies and bought the mound through the Macon County Historical Society to save it from development. It is now owned by the Town of Franklin.





And here are some pictures to look at until tomorrow: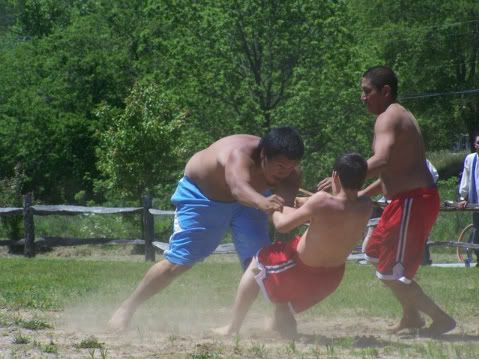 **update** May 19th Another local blogger has graciously linked to this post, and has more to add regarding the history of Nikwasi. It is well worth reading.