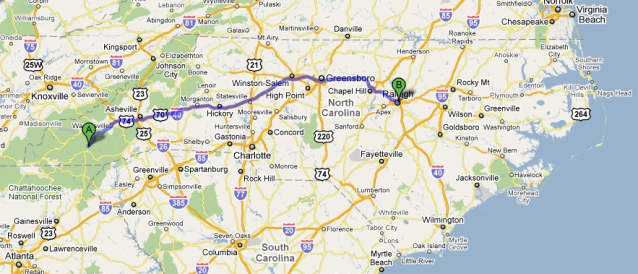 A lot of people in North Carolina seem unaware of how long (from end to end) our state really is. Consider this a reminder from one of the folks in the hills of the western end of the state.
I get email from the NCGOP (I would link to their website, but they've got a retarded splash page up) in Raleigh from time to time advising me of events near me. Never once have they advised me of an event less than an hour away. Of course, the saying out here west of the Plott Balsams is that "...according to the folks in Raleigh, the state ends in Asheville...", which is still a little over an hour east of where I live.
That got me to thinking. I used Google Maps to pick a few destinations to get some road distances and some ballpark figures on driving times.
The North Carolina General Assembly Building in Raleigh, NC is 308 miles and 5 hrs 6 mins away. (The image above is the route suggested by Google Maps).
Downtown Manteo, NC is 497 miles and 8 hrs 12 minutes away.
The White House is 531 miles and 8 hrs 48 minutes away.
City Center Park in Greensboro is 234 miles and 4 hrs 29 minutes away.
The Charlotte Convention Center is 177 miles and 3 hrs 8 minutes away.
Hickory, NC (This is where the John Locke Foundation thinks NC ends) is 135 miles and 2 hrs 25 minutes away.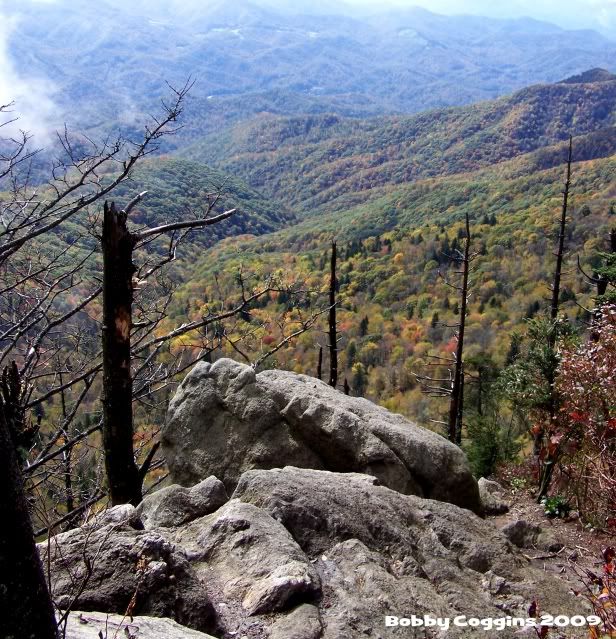 Pritchard Park in Asheville, NC is 63.1 miles and 1 hr 12 minutes away.
North King Street (Closest NCGOP Victory Center) is 78.8 miles and 1 hr 30 minutes away.
The Western Carolina University main entrance is 17.1 miles and 26 minutes away.
The Sylva GOP HQ on Main Street in Sylva, NC is 15.3 miles and 21 minutes away.
The Macon County GOP HQ on Main Street in Franklin, NC is 4.7 miles and 9 minutes away.
And Murphy, NC is 61.1 miles and 1 hr 21 minutes away to the West. Those people have even a longer distance to go. The popular phrase "...from Murphy to Manteo..." is 51 miles and (according to Google) an 8 hr and 58 minute drive.
People in Raleigh need to remember that North Carolina is a big state, and a lot of us don't like to travel any farther from home than we have to. That goes double for the natives who were raised in these mountains. We know how good we have it here, and don't like to leave the mountains if we can help it.