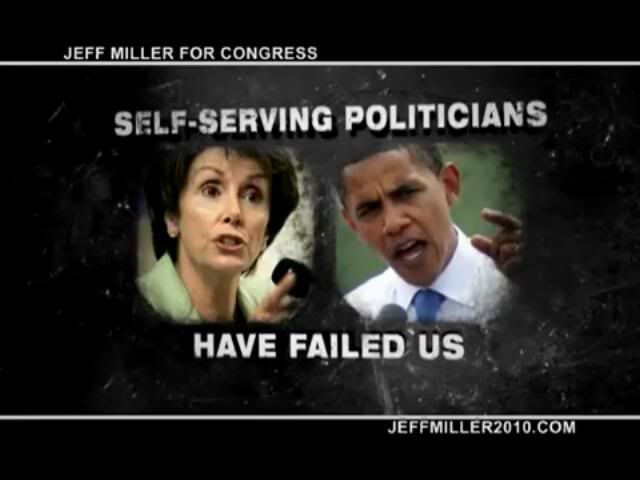 Press Release from the Miller campaign:
Jeff Miller for Congress unveils his latest TV ad, "Politicians"
Hendersonville, NC – Jeff Miller, candidate for U.S. Congress has unveiled his latest television ad titled, "Politicians," which began yesterday and sums up America's frustration with career politicians in Washington and the record high deficit and unemployment rate.
"As a small business owner, I am very aware of the hurdles our businesses are facing today," said Miller. "I will fight to reduce taxes and control government spending. We cannot tax our small businesses out of business. We must recognize the top two creators of jobs are business start-ups and expanding businesses. We must get government out of the way of business so everyone will see North Carolina is the place to grow or start a business.
Miller has run an impressive race winning a 6 way primary in May. This latest television ad, which will air in a large broadcast buy in Western North Carolina, focuses on Miller's pledge to fight raising taxes and his experience as a small business owner.
"One of the main reasons I am running for Congress is because if the reckless deficit spending continues in Washington, it will not be me but my son and his children that have to pay for it years from now. Our children deserve the same opportunity to achieve the American Dream as generations before us have."
Commentary
As soon as the Miller campaign comes to the Franklin or Sylva areas in Macon or Jackson Counties (and I hear about it), I'll bring you coverage of the events.