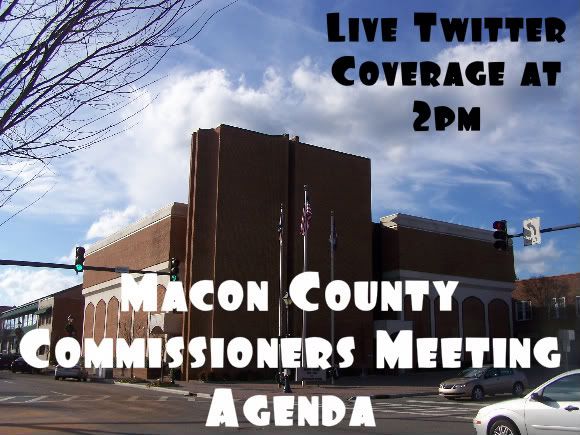 Welcome to the only place where you will find live coverage of the Macon County Commissioners meetings via Twitter!
Here is the agenda for today's meeting...
MACON COUNTY BOARD OF COMMISSIONERS
SEPTEMVER 27, 2010 2 P.M.
1. Call to order and welcome by Chairman Beale
A. Community Development Block Grant……………….Attachment #5A
1. 2:30 p.m. Public Hearing
2. Authorization of grant application
7. Adjustments to and approval of the agenda
8. Reports/Presentations:
1. Update from Smoky Mountain Center
2. Declare October as Mental Health Awareness Month
A. Detention Center Security System Bids……………….Attachment #9A
A. Transit Policies………………………………………...Attachment #10A
11. Consent Agenda………………………………………………..Attachment #11
All items below are considered routine and will be enacted by one motion. No separate discussion will be held except on request of a member of the Board of Commissioners
.





Minutes………………………………………………...Attachment #11A






Budget revisions……………………………………….Attachment #11B






Tax releases……………………………………………Attachment #11C






Senate Bill S510 (Local farmers, producers, etc)……Attachment #11D
12. Appointments…………………………………………………...Attachment #12
13. Closed session (If necessary)
And here is the Twubs Widget that will allow you to follow along with the meeting and view photos as I upload them to the Internet. You can participate by using the hashtag #MaconGov on Twitter, or by joining my twub.
I won't be doing video because the WiFi does not have enough bandwidth to support it. I will, however, continue to stream video of the Town Board of Aldermen, as their WiFi system is much more capable than the county system.