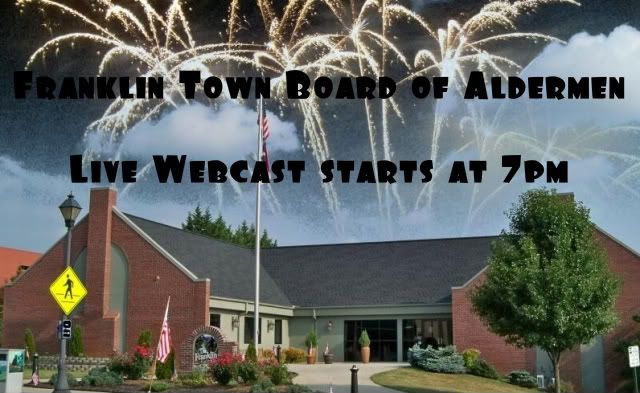 Well, it's the first Monday of the month, and that means it is time once again for me to bring you live coverage of the Franklin Town Board of Aldermen vis the Internet. See the last meeting coverage by clicking here.

Part One of the meeting.



Part Two of the meeting, after I recovered from a laptop crash. There is about ten minutes missing.
The video player is above, and I may start the video stream a little early to give you a look at how things are before the meeting begins.
Below is a Twubs Widget that allows you to follow along with my tweets or see photos that I upload during the meeting as a supplement to the live video, and as a primary for people who are on dial up and can't watch the live video stream. If you prefer to follow along in your favorite Twitter Client, I'll be tweeting using the #MaconGov hashtag:
And, here is an agenda so that you can follow along with the meeting:
Agenda
Monday October 4, 2010 - 7:00 p.m.
Call to order – Mayor Collins

Approval of the September 7, 2010 minutes

Public session

Consideration of proclamation for Mental Illness Awareness Week – Debbie Roberts/NAMI Appalachian South

Consideration of request for non-profit funding from Macon County Care Network – Vanessa Bailey

Consideration to make Bidwell Street one-way from 5:30-8:30 p.m. on October 31 – Vanessa Bailey

Consideration of request for non-profit funding from the Arts Council of Macon County – Bobbie Contino

Town Attorney





NC Local Government Debt Setoff Program

Annexation resolution of intent

Minimum housing code

Schedule public hearing on Extraterritorial Jurisdiction (ETJ) extension for Monday, November 1, 2010 – Michael Grubermann

Discussion regarding proposals for the Whitmire Property – Town Manager

Presentation regarding draft code of ethics – Mike Decker

Designation of voting delegate and alternate for the 2010 NCLM Annual Business Meeting

Adjourn
I should have video of the meeting available by Thursday morning at the latest. I am shooting for Wednesday at noon.