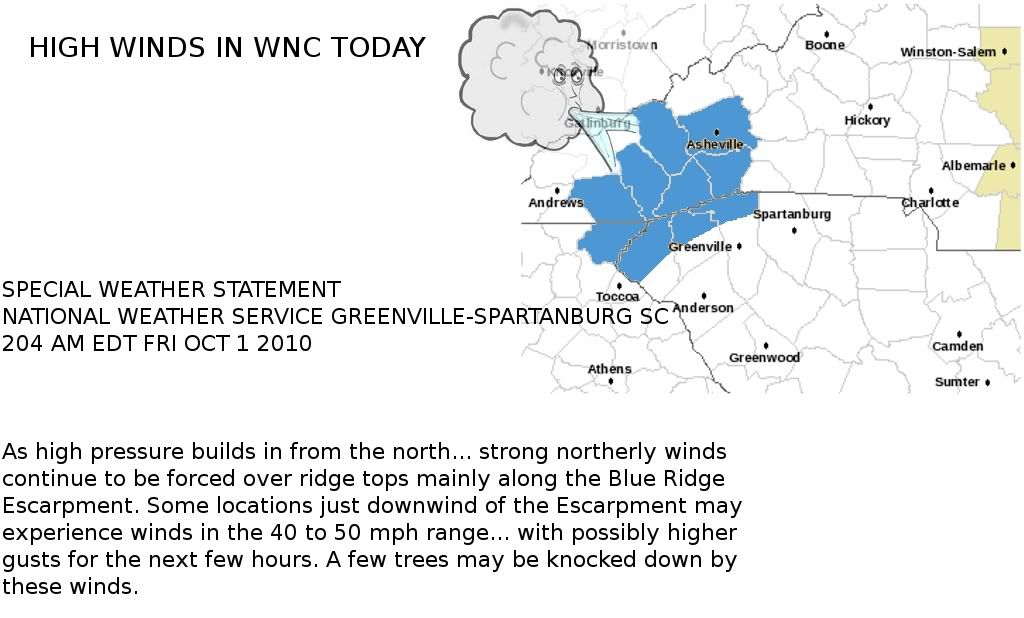 Watch out for high winds this morning across certain areas of western North Carolina on this first day of October.
Here is the text from the Special Weather Statement from the National Weather Service:
SPECIAL WEATHER STATEMENT
NATIONAL WEATHER SERVICE GREENVILLE-SPARTANBURG SC
204 AM EDT FRI OCT 1 2010
GAZ010-NCZ052-053-059-062>065-SCZ001>003-011015-
RABUN-HAYWOOD-BUNCOMBE-NORTHERN JACKSON-MACON-SOUTHERN JACKSON-
TRANSYLVANIA-HENDERSON-OCONEE MOUNTAINS-PICKENS MOUNTAINS-
GREENVILLE MOUNTAINS-
INCLUDING THE CITIES OF...CLAYTON...WAYNESVILLE...ASHEVILLE...
SYLVA...FRANKLIN...BREVARD...HENDERSONVILLE
204 AM EDT FRI OCT 1 2010
As high pressure builds in from the north... strong northerly winds
continue to be forced over ridge tops mainly along the Blue Ridge
Escarpment. Some locations just downwind of the Escarpment may
experience winds in the 40 to 50 mph range... with possibly higher
gusts for the next few hours. A few trees may be knocked down by
these winds.