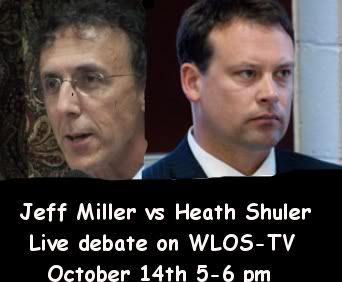 PRESS RELEASE
Dear Friends,
Team Miller is very excited to share the news that on October 14th WLOS will host a live debate between Congressman Heath Shuler and Jeff Miller. The debate will take place during WLOS TV 13's 5:00 - 6:00 p.m. newscast. This debate will be a great opportunity for voters to hear why Jeff wants to represent the 11th District and his plans to put America back to work.
Team Miller realizes the importance of this debate and that is why we want all of our friends, supporters and volunteers to experience the debate and participate by submitting your questions to WLOS via Facebook.
If you have any questions about the debate or how to submit questions to WLOS's Facebook please contact Katie Martin at Katie@JeffMiller2010.com.
This will be a great night for Jeff and we encourage you all to submit your questions and cheer Jeff on!
Thanks again for all of your hard work.
- Team Miller
###
It looks like Congressman Shuler will debate an opponent for this first time. I look forward to seeing this...but I cannot get WLOS over the air where I live...so I hope someone records it and puts it on the Internet.
You can submit your questions via Facebook.
Jeff Miller's Campaign Website
Heath Shuler's Campaign Website