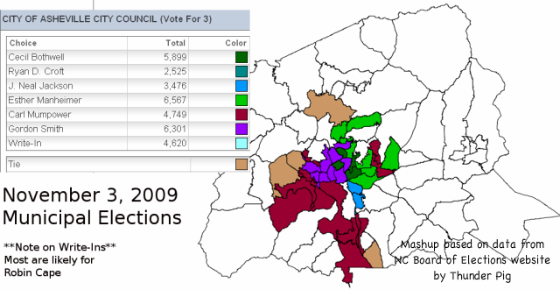 Yesterday was an off year Municipal Election across most of the country, and here are the results of a few of the races I tracked in Buncombe County.
All data for this post was culled from the
North Carolina State Board of Elections website
.
Here are the details of the races available as of 5.57 am this morning:
Asheville Mayor
78.75 % 9,543 Incumbent Terry Bellamy
20.06% 2,431 Robert Edwards
City Council
(Top 3 Are Seated)
19.24% 6,567 Esther Mannheimer
18.46% 6,301 Gordon Smith
17.28% 5,899 Cecil Bothwell
_________________________
13.91% 4,749 Incumbent Carl Mumpower
13.53% 4,620 Write-In (most are probably for Incumbent Robin Cape)
10.18% 3,476 J. Neal Jackson
07.40% 2,525 Ryan Croft
There is no data on the state website that breaks down voter turnout by municipality, just an overall figure for all of them, so take that in mind when you look at the following figures...
17,199 ballots were cast out of 88,229 registered voters for a turnout of 19.49%.
According to latest statistics available on the Buncombe County website, there are (as of
10-15-09
) there are 64,235 registered voters in Asheville. 32,993 are Democrats, 19,127 are Unaffiliated, and 12,012 are Republican.
Commentary
During this election cycle, the "conservative" candidates took a pledge not to raise more than $3,000 in their campaign. In fact, Carl Mumpower did not actively seek re-election by organizing a campaign effort. He attended what forums he was invited to and sent missives via email stating his positions. As far as I can tell, the other conservatives took their lead from him.
That is no way to serve the people, or to protect their interests.
I hope that, in the future, conservative candidates will run for office in Asheville with the concept firmly implanted in their skulls that they must organize a campaign that raises money, gets their message out, and gets people excited enough to volunteer for the campaign and build a real network that can feed the campaign money, more volunteers, and an effective Get out the Vote effort for early voting and on election day.
If they want to see how to effectively do that, they can look no further than the campaigns of the three people who will be sitting in the Asheville City Council Chambers soon. I was particularly impressed with the organization that Gordon Smith and his campaign created.
I would like to thank Carl Mumpower for his years of service to Asheville during his time on the Asheville City Council. I hope he gets that rest he has been wanting.
Interesting Facts:
Gordon Smith had about 300 donors to his campaign, and Cecil Bothwell had about 550 donors and about 750 volunteers according to a video report on the
WLOS website
.