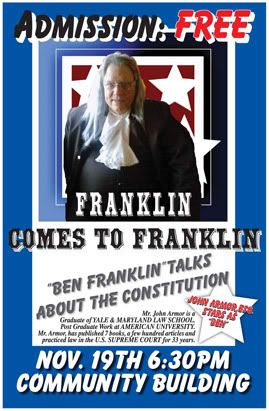 Franklin comes to Franklin in "Ben Franklin Talks About the Constitution" at 6:30 p.m. at the Macon County Community Facilities Building, Hwy. 441 south, Franklin. John Armor stars as "Ben." Armor is a graduate of Yale and Maryland Law School, post-graduate work at the American University, has published seven books, and practiced law in the U.S. Supreme Court for 33 years. This event is free and the public is invited to attend.


Google Map of location.


Previous Posts about John Armor.


John Armor also has an audio CD that is called America's Owners Manual.


One of my videos of John Amror as Ben Franklin is also embedded on the website.