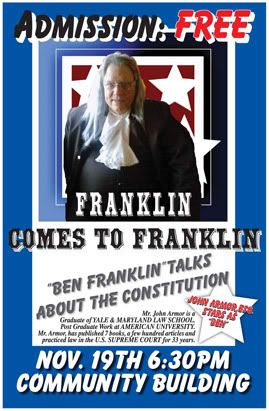 This is a 10 video play list of an appearance by John Armor portraying Ben Franklin.
Franklin comes to Franklin in "Ben Franklin Talks About the Constitution" was held at the Macon County Community Facilities Building, Hwy. 441 south, Franklin.
John Armor starred as "Ben." Armor is a graduate of Yale and Maryland Law School, post-graduate work at the American University, has published seven books, and practiced law in the U.S. Supreme Court for 33 years.