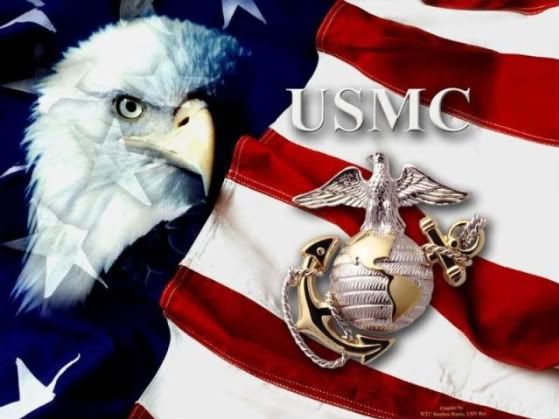 "Some people spend an entire lifetime wondering if they made a difference...the Marines don't have that problem."
- President Ronald Reagan, 1985
Commercial featuring US Marines returning home
On November 10, 1775, the United States Marine Corps was born under the name Continental Marines in Tun Tavern.
They have been protecting America ever since. They've helped liberate other peoples from tyranny and oppression. They are often the first sent in harm's way.
There is nothing that we can do that will ever repay these brave souls. Not one thing, ever. All we can do is let them know that we are appreciative and that we thank them from the bottom of our hearts.
You can read about where the Marines have gone, what deeds they have done at the
Marine Corps History Division
website.
As for me, I've posted some videos below regarding that most curiously heroic force known as the United States Marine Corps...
The Few. The Proud. The Marines.
On My Watch Tonight
Honoring Marines past, present, and future
Marine Corps Base Camp Lejeune Birthday Message
from Commanding Officer
11/10/2009 By Colonel Richard P. Flatau, Jr., Marine Corps Base Camp LeJeune
As we celebrate the 234th anniversary of the founding of our Corps, take pride in your contributions to our great nation, our great Corps and our great base. It is teamwork and each Marine's commitment to the team that is the strength of our Corps. So it is, too, for this iconic base of Marines, this home of expeditionary forces in readiness.
The Corps' strength has been consecrated in sacrifice and tested in battles over the years. Although always resilient in strength, the Marine Corps has continuously adapted and evolved, often through extraordinary innovation. Through it all, a renowned, revered legacy of excellence in battle and in all endeavors has amassed. Camp Lejeune shares in that legacy.
Though the means of war and training for it have changed over the years, the fundamental nature of war and of Marines has not. In the short 68 years that the base has existed much has changed; yet, the Corps' and the base's defining characteristics of commitment, sacrifice for one another, unrelenting excellence, and courage have remained timeless. Today those characteristics flourish here aboard Camp Lejeune, reflected by operational forces Marines preparing for or resetting after combat in Iraq and Afghanistan, or forward presence operations elsewhere around the globe, and reflected by the Marines of the base providing vital support.
As you gather in high-spirited camaraderie to celebrate our Corps' 234th anniversary, I commend to you: honor the generations of Marines preceding us in war and in relative peace without whose sacrifices we would not have our great legacy; remember your fellow Marines deployed around the globe and their families; and, strive to exemplify our motto, Semper Fidelis, by being Always Faithful to each other, to our Corps, and to our country.
Happy birthday Marines. Col Flatau sends.