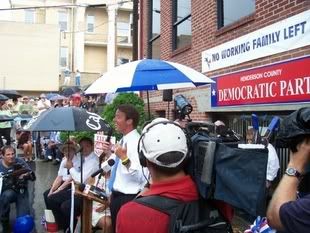 A day after former Senator John Edwards (D-NC) criticised Wal Mart, like any good lefty, a volunteer associated with his staff attempted to use his name to obtain a Sony PS3.

The above statement in undeniable. The devil, apparently, is in the details.


| | | |
| --- | --- | --- |
| Wal-Mart Stores Inc. said Thursday that a staff member for former Sen. | | |
John Edwards _ a vocal critic of the retailer _ asked his local Wal- Mart store for help in getting the potential 2008 presidential candidate a Sony PlayStation 3. Edwards said a volunteer did so by mistake.
Edwards told The Associated Press that the volunteer "feels terrible" about seeking the game unit at Wal-Mart a day after his boss criticized the company, saying it doesn't treat its employees fairly.

If what John Edwards says is true, then we have been offered a glimpse into the life of the Breck Girl and his Wife. One of them says something in front of staffers, who then work to make it so without being formally directed to do so. Crime Families work that way. I am surprised that the former Senator would allow an atmosphere like that to develpe around him. Character flaw?
If what Edwards says is untrue, my above assertion also holds. What we have here is a disqualification of Edwards for President in 2008. I hope the right people are taking notes.