The following is a briefing from Rear Admiral Gregory Smith:


We have provided several briefings over the past year focused on operations against al-Qaeda Iraq, and while considerable progress has been made we still have much work to do. Operation Phantom Phoenix, an Iraq-wide operation targeting al-Qaeda, has been underway for two weeks and the effects of these combined coalition and Iraqi Security Force operations has been substantial.

Since January 1, Operation Phantom Phoenix has conducted 18 battalion-level operations, detained 1023 terrorists and killed 121 terrorists. Among those captured or killed were 92 high-value targets. Coalition and Iraqi forces have also found and cleared 351 caches, 410 IEDs, 3 VBIED and IED factories, and 4 tunnel complexes.

I thought it would be helpful to spend some time today discussing what still remains as Iraq's most lethal enemy and its greatest threat to peace … al-Qaeda Iraq.

What is al-Qaeda Iraq? Who are its leaders and who makes up their rank and file? How are they organized, funded and how do they operate? What are they hoping to achieve in Iraq? And finally, what effect have they had on the people living here? These are questions I hope to be able to provide some perspective on by summarizing the fight against al-Qaeda Iraq over the past year.
Source: MNF-IRAQ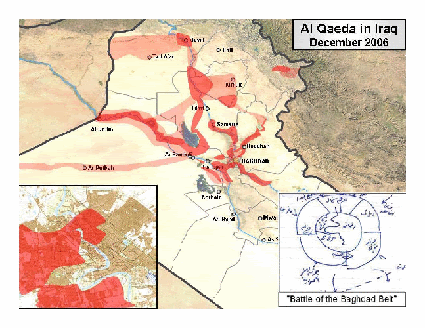 The Surge Succeeds!