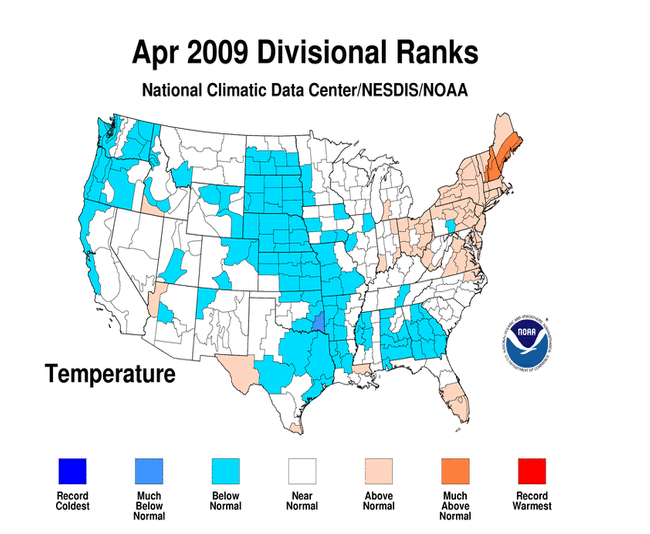 The monthly climate report from NOAA has been released, and here are a few highlights:
The April 2009 temperature for the contiguous United States was below the long-term average, based on records going back to 1895, according to an analysis by NOAA's National Climatic Data Center in Asheville, NC.

The average April temperature of 51.2 degrees F was 0.8 degree F below the 20th Century average. Precipitation across the contiguous United States in April averaged 2.62 inches, which is 0.19 inch above the 1901-2000 average.

-SNIP-

U.S. Temperature Highlights

April temperatures were near normal across much of the United States. On a regional scale, only the Northeast (above-normal) and the West North Central (below-normal) deviated significantly from the norm.

New Hampshire observed its eighth warmest April, based on data going back to 1895. Unlike much of the Northeast, the Midwest experienced a cooler-than-normal month. From North Dakota southward to Oklahoma, Missouri, Louisiana, Alabama and Georgia, temperature averages were below normal.

For the year-to-date period, only two states, North Dakota and Washington, have experienced cooler-than-normal average temperatures. In contrast, much of the South and Southwest regions were above-normal. New Mexico had its ninth warmest such period on record.

Based on NOAA's Residential Energy Demand Temperature Index, the contiguous U.S. temperature-related energy demand was 2.3 percent below average in April.

-SNIP

Other Highlights

International Falls, Minn., recorded 125 inches of snow so far this winter season, breaking the previous record of 116 inches set in the 1995-1996 winter season. Another seasonal snowfall record was broken in Spokane, Wash., where 97.7 inches of snowfall broke the old record of 93.5 inches set in 1915-1916.

About eight percent of the contiguous U.S. was covered by snow at end of April, according to an analysis by the National Operational Hydrologic Remote Sensing Center. Snow coverage during the month peaked at 30.2 percent on April 6, after a late-season winter storm hit the Midwest and Plains.

The 263 preliminary tornadoes reported in April was above the three-year average of 200 confirmed tornadoes.
As the climate continues to cool, as it has for the past decade, look for environmental extremists and lefties (but I repeat myself) to try to cover up and ignore the data as it comes in. I look for local lefties to only report the warmer data or skip this month's report.
Reading Assignment