center>
Graphic: The storms as they rolled past WCU, coutesy Wx Underground.
We've had quite a lightning storm on the WCU campus this morning, and I am surprised that the power never went off.
There was even a Tornado Warning for Haywood County and part of Buncombe County and it continues in parts north and east as the storm rolls to the northeast, as evidenced by this snapshot of the
NWS GSP page
: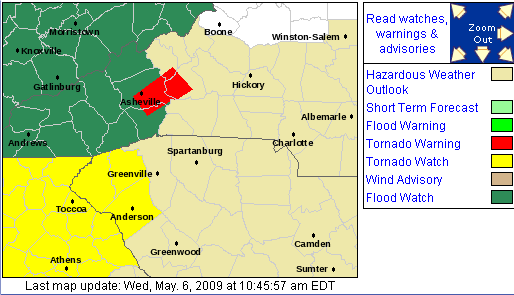 And the NWS has just issued a Flood Advisory for Macon and Jackson Counties:
FLOOD ADVISORY
NATIONAL WEATHER SERVICE GREENVILLE-SPARTANBURG SC 1050 AM EDT WED MAY 6 2009
NCC099-113-061745-
/O.NEW.KGSP.FA.Y.0022.090506T1450Z-090506T1745Z/
/00000.N.ER.000000T0000Z.000000T0000Z.000000T0000Z.OO/
MACON NC-JACKSON NC-
1050 AM EDT WED MAY 6 2009
THE NATIONAL WEATHER SERVICE IN GREENVILLE-SPARTANBURG HAS ISSUED A
* SMALL STREAM FLOOD ADVISORY FOR MINOR FLOODING OF POOR DRAINAGE
AREAS IN...
NORTHERN JACKSON COUNTY IN WESTERN NORTH CAROLINA...
THIS INCLUDES THE CITY OF SYLVA...
NORTH CENTRAL MACON COUNTY IN WESTERN NORTH CAROLINA...
* UNTIL 145 PM EDT
* AT 1045 AM EDT DOPPLER RADAR INDICATED VERY HEAVY RAIN WAS FALLING
OVER NORTHERN JACKSON AND NORTHEAST MACON COUNTIES.
RAINFALL AMOUNTS UP TO THREE QUARTER INCH AN HOUR WERE FALLING
ACROSS THE CANEY FORK...SCOTTS AND COPE CREEKS. HEAVY RAIN IN THE
SYLVA AREA WILL CAUSE RAPID RISES ON SCOTTS AND COPE CREEKS.
FLOODING IN LOW LYING AREAS NEAR THE CREEKS WILL OCCUR ESPECIALLY
ALONG MAIN AND CALDWELL STREETS.
FLOODING WILL LIKELY DEVELOP IN THE FRANKLIN AREA ALONG THE LITTLE
TENNESSEE AND CULLASAJA RIVERS, ESPECIALLY ALONG EAST MAIN NEAR
DEPOT ST... RIVER ROAD PARTS OF WEST MAIN STREET AND HIGHLANDS
ROADS.
PRECAUTIONARY/PREPAREDNESS ACTIONS...
RUNOFF FROM THIS STORM WILL CAUSE RAPID RISES ALONG CREEKS AND
STREAMS...ROADS AND ROADSIDE CULVERTS. THE HEAVY RAINS COULD ALSO
TRIGGER ROCK AND MUDSLIDES IN STEEP TERRAIN.
TO REPORT HIGH WATER...FLOODING...MUDSLIDES...LANDSLIDES OR OTHER
SEVERE WEATHER THROUGH OUR AUTOMATED REPORTING SYSTEM...CALL OUR TOLL
FREE NUMBER...1 8 7 7...6 3 3...6 7 7 2.
&&
LAT...LON 3544 8333 3550 8317 3548 8314 3546 8313
3545 8310 3543 8307 3530 8297 3520 8335
$$
PAT