**9.09am** video from Sylva added to end of post.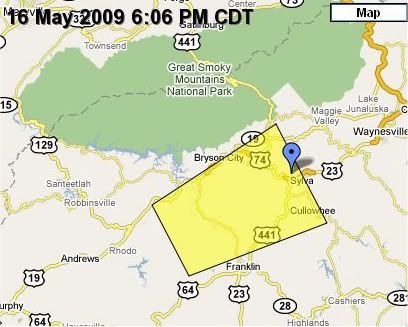 This graphic is of the Severe Thunderstorm warning area, and the blue marker indicates the approx. position of a Jackson County official that reported penny sized hail (0.75 inches) 2 miles NW of Sylva. My position was in the area of the second four in the US 441 highway marker on the map.
Here is a short video of the approach of a little thunderstorm cell on my location in eastern Macon County, about 4 miles northeast of Franklin, NC. It was a tight little storm with a counter-clockwise rotation as viewed from below. If it were plotted from above on a map, it (the rotation) would be clockwise. (See? Perspective always trips me up!)
According to the National Weather Service, it was moving west at 15 mph. I thought that the base was moving a bit faster, perhaps 30 mph or better. Maybe the rotation made it appear to move faster since I was under the southern part of the cell.
It developed before I could get in a better position to view the approach. The rain hit about a minute after I got under shelter, and was intense for about 5 or 6 minutes, then trickled away to a steady light rain on and off for the next couple of hours as other, less violent storms rolled through.
Other areas in the eastern and northeastern part of WNC suffered slow moving storms and heavy rains that led to Flood Advisories being issued.
Here is the Statement on the storm as issued by the National Weather Service:
SEVERE WEATHER STATEMENT
NATIONAL WEATHER SERVICE GREENVILLE-SPARTANBURG SC
727 PM EDT SAT MAY 16 2009

NCC099-113-173-162345-
/O.CON.KGSP.SV.W.0114.000000T0000Z-09051 6T2345Z/
MACON NC-SWAIN NC-JACKSON NC-
727 PM EDT SAT MAY 16 2009

...A SEVERE THUNDERSTORM WARNING REMAINS IN EFFECT UNTIL 745 PM EDT
FOR NORTHWESTERN JACKSON...SOUTHERN SWAIN AND NORTHERN MACON
COUNTIES...

AT 727 PM EDT...NATIONAL WEATHER SERVICE DOPPLER RADAR CONTINUED TO
INDICATE A SEVERE THUNDERSTORM CAPABLE OF PRODUCING PENNY SIZE
HAIL...AND DAMAGING WINDS IN EXCESS OF 60 MPH. THIS STORM WAS
LOCATED NEAR ALARKA...OR 8 MILES SOUTHWEST OF SYLVA...MOVING EAST AT
15 MPH.

ANOTHER SEVERE THUNDERSTORM WAS DEVELOPING JUST WEST OF
SYLVA...MOVING EAST AT 15 MPH.

OTHER LOCATIONS IN THE WARNING INCLUDE BUT ARE NOT LIMITED TO GAY...
CHEROKEE...WEBSTER...DILLSBORO AND CULLOWHEE

LAT...LON 3550 8329 3528 8315 3516 8353 3532 8363
TIME...MOT...LOC 2327Z 252DEG 14KT 3533 8335

$$

HG
update from the Sylva Herald Blog...
And here is video from Sylva, where there was flooding and people were evacuated to St. Mary's Catholic Church: