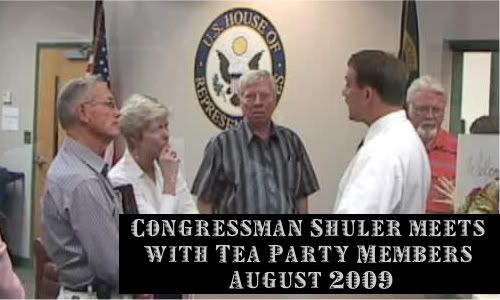 Image from a video shot by @LiberT
Asheville Tea Party Meets Congressman Heath Shuler from LiberT on Vimeo.

This video was shot by
@LiberT
who blogs at
Fr33 Asheville
. He is a young and enthusiastic Republican in Buncombe County.
During the meeting, Congressman Heath Shuler indicated that he will be voting against HR 3200. Please call
202-225-6401 and congratulate him, and encourage him to be independent of Nancy Pelosi and President Obama. Other contact info for him is available at his
Congressional Website
.
Here is a write-up of the meeting:
At 5:15 pm this evening, 8 representatives of the Asheville Tea Party and 1 Hendersonville Tea Partier were given a private audience with Congressman Heath Shuler.

In our group were Dr. Bill Rieke and his wife Margaret, Bill O'Connor, Doug Lack, Gary Shoemaker, Brian Umbarger, Jeffery Lane, Bill Lack, and me, Erika Franzi.

I began the discussion by sharing with Congressman Shuler some of the concerns that many of you have shared with me.

This plan is too expensive for a country that is already broke.

The federal government is not capable of handling the responsibility of an industry that makes up 15% of our economy.

The Public Option as a backdoor route to a Single Payer health care plan.

Achieving universal healthcare without shooting costs through the roof means rationing of care.

This plan, if its so good, should be required for all federal employees.
Commentary
I am gladdened that he has said he will be voting against HR 3200 (aka ObamaCare).