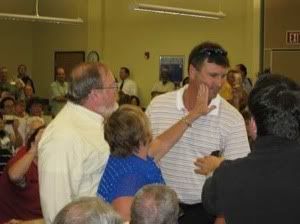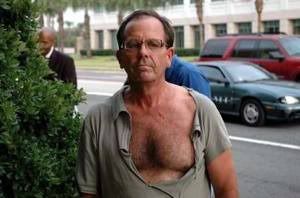 Photos Courtesy Drudge Report
I think the above photos show the influence that the left, and their supporters in the Unions are having on political discourse in our nation. Of course, if either of the politicians at the events pictured above had an ounce of courage, they would have made the effort to speak to the overflowing crowd of people who had to both hear the politician and to be heard by the politician.
There are bits and pieces of the Town Hall that took place in Tampa, Florida last night being posted, but so far, none that provide a serial narrative of the events.
Courtesy You Tube User
johnsmithers77
Courtesy You Tube User
sunsetfans



And this video shows the scene immediately outside the Town Hall, where voters came...and were not even addressed by the politicians that supposedly represent them. Some representation, huh? I wonder if the people of the American Revolution would have stood for this treatment by their representatives?


Video Courtesy You Tube User
InterestVid




This video shows a victim of the violence of the health care "reformers" and Union thugs. In America. This happened in America. And the coward who is the elected representative of the people of Tampa, Kathy Castor, did not bother to even try to address these people who showed up. Or was it a case of arrogance? Did Kathy Castor feel that she was elected to do the will of the Union thugs, and to ignore other constituencies?

A similar scene took place in St. Louis as well, including preferential seating given to union members and supporters of health care "reform". Observe...


Video Courtesy You Tube User
mghoft




The same You Tube user captured the people who were denied an opportunity to interact with their elected representative breaking into song:






And here is what happened inside the Town Hall in St. Louis, captured in a playlist of videos that will automatically advance. So far 6 videos have been uploaded, and I will add the others to this playlist as they are added:


Video Courtesy You Tube User
dsm0012




There were other Town Halls yesterday, though none have received the attention of the two above. Here is a short video by a citizen journalist at the event that was attended by Congressman John Dingel. I think she provided some succinct commentary and observations:


Video Courtesy You Tube User
kelticknight70



My own Congressman, Heath Shuler, has chickened out of holding real Town Halls, and will be holding a couple of
Tele-Town Halls
. I'll keep you apprised of when they will be held, and post the audio from them if i am able.

I suppose it must be too hard for him to hold Town Halls in every county of the 11th Congressional District of North Carolina, huh? Especially when he has nearly a month of vacation coming up. So much for Mountain Values.